Acer gets Gateway, Lenovo could get nothing and IBA might finally get iSoft
To subscribe to Channel Register's weekly newsletter - seven days of channel news in a single hit - click here.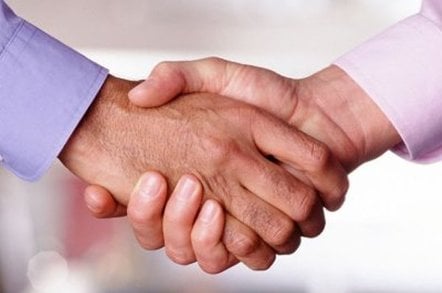 Who said August was boring or quiet? Not with Lenovo's bid for Packard Bell coming near the start of the month and then Acer's $710m punt on Gateway arriving last week. Acer must have taken some grim satisfaction from the fact its takeover of Gateway has also led Gateway to invoke a 'right of first refusal' to any offer for Packard Bell, putting the kybosh on Lenovo in the process. After all, it wasn't that long ago people were claiming Lenovo had beaten Acer to the punch by making a bid for Packard Bell. It ain't over 'til it's over. Oh, and it also makes Acer the third largest computer supplier in the world.
US authorities unlikely to approve Seagate Chinese takeway
Still on the subject of Lenovo, it was widely tipped to be the Chinese firm behind an audacious plan to buy Seagate Technology reported in The New York Times last week. Seagate CEO William D. Watkins, who declined to name the firm at the centre of the rumours, reportedly said that "the U.S. government is freaking out" because of the potential risk to national security. Seagate quickly reassured workers and the Feds that no such deal was on the cards.
It's on, it's off, it's on again
One company Lenovo wasn't tipped to be buying was poorly NHS software provider, iSoft Group. The long-running saga over who would buy the company took another twist last week. We could go through all the ins and outs but it would take the rest of August and probably most of September to list them. Suffice to say, the company has now said that it prefers a revised buyout bid from Aussie outfit IBA Health. Last month, it preferred the cut of CompuGroup's jib, but IBA's new offer is higher.
Weak home front dents LogicaCMG
Staying in the UK, IT services group LogicaCMG said improving UK operational performance was a "key priority" for the second half of the year after the British business arm reported an 8.3 per cent fall in profits. By contrast, revenue growth in France, Nordics, The Netherlands and Germany was above market expectations. The Anglo-Dutch firm confirmed that David Tyler, who joined LogicaCMG in July this year, will replace chairman Cor Stutterheim. The search is still on to hire a new chief executive following Martin Read's decision to step down after 14 years at the company.
It's not a delay, it's just slow cooking
Right. There were loads of Microsoft stories this week, here are just a few of them. First we have a classic delay story, a real mainstay for people familiar with Microsoft. This time it's Windows Server 2008 which, you've guessed it, has been delayed until 2008. It was expected to be released to manufacturing by the end of the year but has slipped to the first quarter of 2008 ""to meet the high quality bar that our customers and partners deserve and respect". Programme manager Alex Hinrichs said: ""It's like a brisket. "I[t] just needs a little more time to bake." Those of us who have never baked a brisket, will just have to take his word for it. Alternatively, we can consult an expert such as Laura Brody, author of Slow Cooker Cooking: "I think the slow cooker was invented with brisket in mind. This sweet and savory version is perfection itself, melting in your mouth." Sounds exactly like Windows Server 2008 alright.
Stop the music before it stops Vista
At the same time, another Windows flavour - and a real slow cooker at that - Vista was getting it in the neck. Windows architecture guru Mark Russinovich confirmed that users could bring throughput in Microsoft's new and improved operating system to a screeching halt by playing media files. Russinovich documents how a throughput of about 20 per cent on his 1Gb local area network dropped to about six per cent simply by trying to pass the time by playing a tune in Windows Media Player.
Waiter, I think my operating system is a little raw
Staying on Vista, Microsoft revealed the first Vista Service Pack is likely to arrive at the beginning of 2008, depending on how well the beta test - due to be rolled out in the next few weeks - progresses. In the meantime, Microsoft recommends people deploy Vista today "in order to benefit from improved security, management, and deployment benefits". Alternatively, you could wait until it's properly cooked.
Patches turn MS customers into pirates
Meanwhile, thousands of Microsoft customers trying to download patches and updates for Windows were accused of running pirated versions of the operating system because of a problem with the company's Windows Genuine Advantage anti-piracy programme. Microsoft blamed server problems, since fixed.
I thought we were going to Disneyland
Finally, there was uproar in Sweden - oh, alright, not anything quite as dramatic as uproar - when Swedish internet pioneer Patrik Falstrom accused Microsoft of bussing in local partners to a Swedish Standards Institute meeting on OSI ratification of the Redmond company's Office Open XML standard. The specification is already used by Microsoft in Office 2003, 2007 and XP. The partners had not participated in earlier OOXML discussions but paid their admission fee and gave OOXML a resounding 25 "yes" votes compared to six "no" votes and three abstentions. It was believed OOXML was heading to a certain defeat had Microsoft's supporters not turned out en masse. If you're right Patrik, we suspect there might not be so many partners signing up for Microsoft's next mystery day out.
Apple hits third in US retail sales
Things were going pretty well for Apple last week. US market researcher NPD claimed the Mac maker had risen to become the third biggest retail laptop vendor in the US in June with 17.6 per cent of the market. Apple is behind HP and Toshiba but ahead of Dell, Gateway and Lenovo.
Teenager hits jackpot with iPhone hack
New Jersey teenager George Hotz had reason to be thankful to Apple for its decision to lock the iPhone with AT&T's network. Having successfully hacked it to run on other networks, Hotz was offered a Nissan 350Z sports car and three 8GB iPhones in a trade by Terry Daidone, founder of Certicell. Daidone has also offered Hotz a paid consultancy job. Thanks Apple!
AUS$84m porn filter goes down on 16 year old
Staying with teenagers, a 16-year old based in Melbourne has broken the anti-pornography filtering software the Australian government has spent AUS$84m on and which it is providing for free. Tom Wood claimed to have taken half an hour to break the filter which he described as "completely useless". Communications Minister Helen Coonan responded: "Sadly, just as a seatbelt will never prevent every fatal car crash, as the government has always maintained, no filter is foolproof." Or teenager proof.
Rock a bye server packed in your box, please don't you fall when the forklift rocks...
We all know about the mishaps that can occur when you place your trusted possessions in the care of certain removal men, but contractor T.R. Systems is trying to pin the blame on IBM after a server valued at $1.4m fell off a forklift and got damaged. The accident happened when workers were moving the server from a freight truck in T.R. Systems' warehouse in Alexandria, Virginia. T.R. Systems alleges that when the forklift rocked, "the base of the pallet and the crate broke and the crate fell onto the curb, damaging the server packed inside". Was the packaging or the fall to blame? As they always say in America: "Let the courts decide."
This week's silly story...
No, it's not the one about the Australian children's author who cooked up the idea of eating feral cats to help protect the country's indigenous wildlife. Kay Kessing, who "campaigns to save wildlife from the depredations of cats and other introduced animals, including camels, donkeys and wild horses", cooked wild cat casserole at a bush tucker competition last weekend in Alice Springs.
...Yeo must be joking
But it is bush related. We refer to the story that US Republicans are angry and upset by a portrait of President George Dubya Bush constructed from porn magazine clippings by a UK artist. A spokesman for the Republican Party in Bush's home state of Texas said: "This picture is very distasteful. Why would anyone want to make a picture of our President from pornographic material?" The offending artist Jonathan Yeo replied: "I did it for fun, not to offend, but I'm pleased with it. I did it to amuse." Looks like Dubya has gone from born again to porn again.