Sony preps HD-ready Vaio all-in-one iMac-alike
CableCard required
The latest model in Sony's L series of all-in-in desktop Vaio PCs is the first machine in the line to feature not only a Blu-ray Disc drive but also a TV tuner capable of receiving HD programming.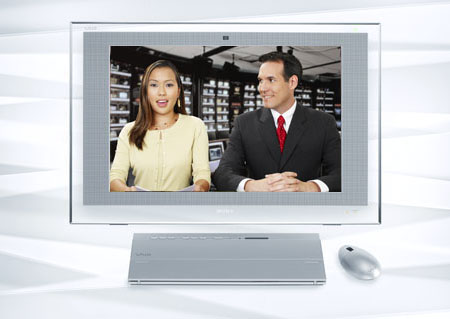 Sony's Vaio LT: CableCard required
The Vaio LT HD PC/TV VGC-LT19Uis based around a 22in, 1680 × 1050 (WSXGA+) widescreen display with a 1.3-megapixel webcam and an echo-cancelling microphone built into the bezel. A 2.2GHz Core 2 Duo T7500-based PC with 2GB of memory, 500GB of hard drive capacity and 802.11n Wi-Fi is round the back.
Graphics come courtesy of an Nvidia GeForce 8400M GT graphics chip with 1GB of dedicated graphics memory. It's fed by an AMD ATI TV Wonder digital cable tuner that can pick up standard- and high-definition broadcasts, along with cable TV support.
The system packs in PC Card and ExpressCard 34 slots, five USB ports, a pair of 3W stereo speakers and a 5W sub-woofer.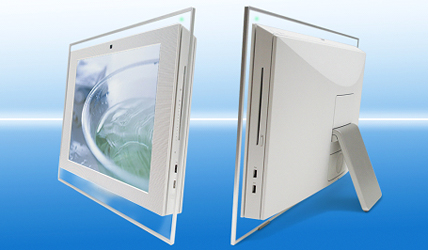 Sony's Vaio LT: slimline
The VGC-LT19U's Blu-ray Disc drive supports the full array of writeable CD and DVD formats, along with their Blu-ray equivalents.
The LT line up includes two other, lesser models that lack the cable TV and Blu-ray support of the top-of-the-line unit. They also contain less graphics memory and smaller, 320GB hard drives. The bottom-of-the-line box has a 1.5GHz Core 2 Duo T5250 CPU, which contains 2MB of L2 cache to the T7500's 4MB.
The VGC-LT15E, VGC-LT18E and VGC-LT19U are priced at $1900, $2050 and $2999, respectively. All three will go on sale in the US in October.
Sponsored: How to Process, Wrangle, Analyze and Visualize your Data with Three Complementary Tools