Yoga rug gets hi-tech overhaul
Inhale, exhale, download, inhale...
There aren't many - or even any - yoga-buffs at Register Hardware. We always thought it pushed us too far outside of our IT comfort zone - until now. A design concept for a 21st Century yoga mat has been created, incorporating music, video and even conferencing facilities - but no mini-bar.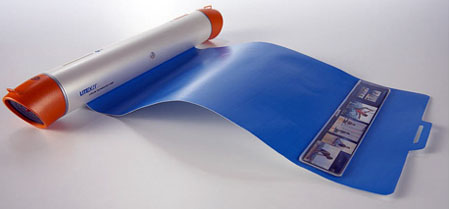 Yanko Design's hi-tech yoga mat
The mat rolls out of a metal tube - a bit like those stands manufacturers have at conferences - that doubles up as a stereo and allows music to be streamed to it. Alternatively, it can receive audio directly from memory cards or a connected MP3 player.
The icing on the cake is that the mat itself is made from a form of electronic paper that allows for video content to be streamed directly to it and could support yoga-centric conversations with people around the world. Although, we aren't sure how it would react with the sweat produced while you try to wrap your legs around your neck. Or why you'd want to be surfing the web and attempting to achieve a zen-like state of inner oneness.
The mat is still a concept at this stage, so you'll have to make do with your headphones and the living room rug.