Sonnet intros Firewire+USB, 12-in-1 card reader ExpressCards
Mac accessory specialist Sonnet Technologies has rolled out a pair of ExpressCard add-ins: a 12-in-one memory card reader for one, and a USB 2 and Firewire port adaptor for the other.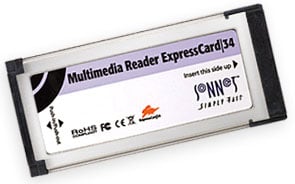 Sonnet's 12-in-1 card reader
The memory card reader's not unlike one released by Griffin Technology earlier this year - reviewed here - but while that supported just five formats, the Sonnet version handles 12 - more with card-sized adaptors, such as a Micro SD to SD converter - crucially including SDHC support.
The card fits flush with the edge of the computer's case, so it's ideal for folk who want to leave it in there.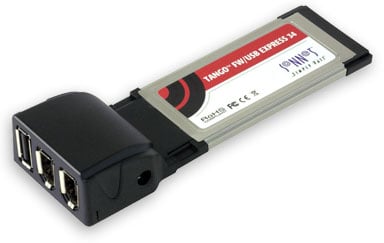 Sonnet's Firewire and USB card
The other offering is geared more toward Windows users than Mac owners, though we're sure they'll find it handy too. It provides an extra USB 2.0 port - why do Mac laptops have too few of these? - and a pair of six-pin Firewire 400 ports.
Both cards use the ExpressCard 34 format, so they'll fit in any machine with an ExpressCard port, whether its a Windows XP or Vista machine, or a MacBook Pro - Sonnet includeds drivers for all three platforms. That said the Firewire card will require Mac OS X 10.5, due in October.
Both cards are available now. The Multimedia Memory Card Reader costs $30 (£15/€22), while the Firewire/USB card costs $70 (£35/€52). Buy them direct from Sonnet or from one of its many dealers.