Dell Inspiron 1720 laptop
A laptop to replace your desktop
Review Dell has hit refresh on its Inspiron range of notebooks and added the desktop replacement 1720, using the latest Intel Santa Rosa technology. This addition is one in a line of constant improvements to the Inspiron range, which appeals to both business and home users.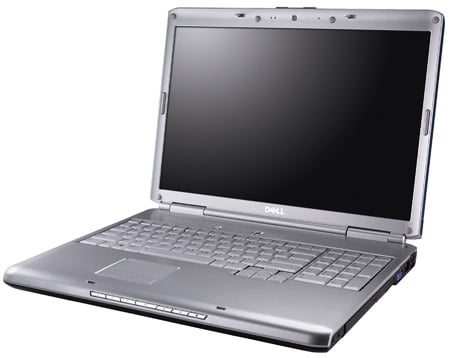 Six different flavours are available...
With the 1720, Dell has caught the coloured notebook bug. The chassis may be the normal silver colour, but you can now personalise the lid with a choice of eight colours - a matt black called Jet Black, and six microsatin finishes, Midnight Blue, Bubblegum Pink, Spring Green, Ruby Red, Sunshine Yellow and Espresso Brown. Yes, really. A gloss white finish is also available, but you may have to wait up to 20 days longer before you can get hold of your Mac look-a-likey.
Whichever hue you choose, you won't be showing if off too often as it weighs in at a spine-crippling 4.3kg including the power brick - hence the desktop replacement tag. As standard, the 1720 comes with a 85WHr 9-cell battery, but battery life for this type of notebook is a bit academic as it'll spend most of its life on the mains. In a worse case scenario, however, with all the power savings turned off it gave a battery life of around 2hrs 45minutes.
As always with a Dell system there's plenty of choice when it comes to fitting out your 1720. Our review system came with an Intel Core 2 Duo T7100 processor, which is clocked at 1.8GHz and has an 800MHz FSB speed and 2MB of L2 cache, but depending on your budget you can choose from a 1.66GHz Core 2 Duo T5450 up to the mighty Core 2 Duo T7700 clocked at 2.4GHz with 4MB of L2 cache.