Worn out your vibrator? Relief is at hand
Recycle now for planet-hugging ecogasms
NSFW During a recent Vulture Central editorial brainstorm it was reluctantly decided that, in the face of mounting reader criticism that El Reg was becoming the IT equivalent of the Sunday Sport, we should forthwith return to our core news values and never more darken the internet with tales of Bulgarian airbags, black cocks, and people having sex with goats.
Accordingly, this hack was dispatched back to his keyboard with explicit instructions to dig up something on Europe's Waste Electronic and Electrical Equipment (WEEE) directive and deliver a proper news analysis entirely free of cheap innuendo and quippery.
Six hours later, and having got no further than the headline ("How seriously are you taking the WEEE?"), I began to seriously regret not taking that job doing the small ads for the Basingstoke Thunderer.
However, they say it's always darkest just before the dawn, and the stygian gloom was suddenly pierced by an enlightening email from UK sex toy outfit LoveHoney announcing "the world's first ever sex toy recycling scheme":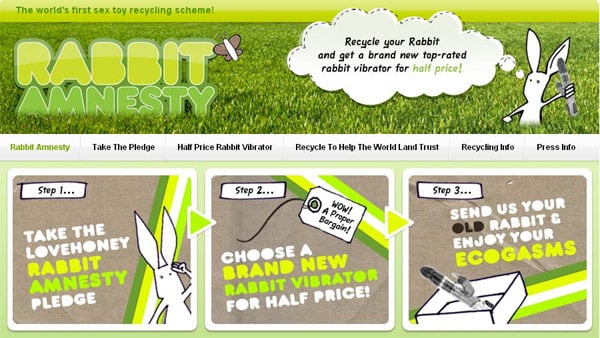 Marvellous. Here's the background:
LoveHoney is extending environmental awareness to the bedroom by encouraging people to send in their overloved rabbit vibrators so that they can be recycled and treated in an ecologically sound manner, rather than being dumped in landfill sites. For each rabbit received through the scheme, LoveHoney is donating £1 to the World Land Trust and offering customers the opportunity to buy a clean, green rabbit for half price.
Well, the WEEE directive covers all electrical goods, but since we seriously doubt many people will be going into Currys and slapping a 12-inch Throbbing Stallion dildo on the counter and saying "Here you go mate, recycle that", we applaud LoveHoney for this initiative. ®
Bootnote
For the record, scurrilous suggestions that LoveHoney's ongoing affair with El Reg is due entirely to its PR department performing sexual favours for our editorial staff are entirely unfounded. Our journos rarely have time for sex, but firms who do desperately need their product flogged are directed to our tariff.
Sponsored: Beyond the Data Frontier