Unannounced Slingbox surfaces on the web
Original Slingbox revamped?
Sling Media is working on a new incarnation of its Slingbox TV-over-the-internet box, the US Federal Communications Commission (FCC) website has revealed.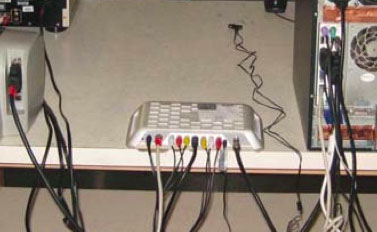 Sling Media's 'Slingbox 3': in the labs
Details of the new box, mentioned in FCC electromagnetic emission testing documentation, are sparse, but it appears to sit between the current Slingbox Pro and the lesser Slingbox AV. While the Pro offers a wide array of input and outputs, and incorporates a tuner, the AV is a tuner-less box with just RCA audio, s-video and composite-video inputs. Both boxes take the input, compress it and stream it via an Ethernet port to the local network and the internet.
The Slingbox in the FCC filings appears to have an on-board analogue tuner, s-video, RCA audio and component-video inputs. The single pic of the device in the documentation suggests it also has composite-video output too and possibly a TV output port.
All of which seems to point to a device more like the original Slingbox, but smaller, making it handy for folk who don't have a set-top box receiver but who don't need the full port array offered by the Slingbox Pro - and perhaps the Pro's HD support too.
Meanwhile, we're also eagerly awaiting news of Sling's promised Slingbox-in-reverse, the SlingCatcher, a hardware version of the company's SlingPlayer software that can pick up a stream from a Slingbox and display it on a regular TV.
Sling announced the SlingCatcher in January 2007, promising to bring the device to market during the middle of the year.
Sponsored: Detecting cyber attacks as a small to medium business