How to watch TV on your PC
PC as PVR
At the most basic level, it makes little difference whether you use a USB tuner or an internal PCI or PCI Express add-in card. You're talking about roughly 1GB of video per tuner per hour, which is well within the bounds of USB 2's bandwidth. However, it's a safer bet to use an internal card, especially if you also use a number of USB peripherals. And if you plan to make the jump to HDTV, you'll need a faster interface than USB 2.0.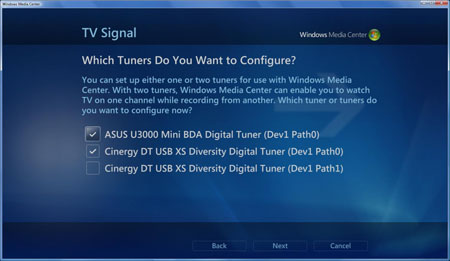 Windows Vista can use multiple TV tuners
Still, if you have a highly compact desktop PC, like you'll have little choice but to go for a USB tuner. You may well find that the tuner blocks one or more neighbouring ports, but USB tuners usually come with a USB extension lead.
This largely applies to laptops too. It's the work of a moment to unplug a USB tuner and aerial when you're off on your travels, but you're not limited to USB-connected devices. AVerMedia, for example, has a growing range of ExpressCard tuners such as the DVB-T Express X. Thanks to the bandwidth provided by the ExpressCard bus, it has headroom for HDTV.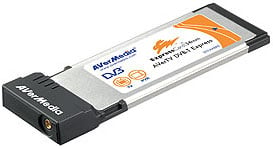 AVerMedia's DVB-T Express X ExpressCard tuner
To the best of our knowledge there's no technical difference between PCI and PCIe add-in cards, although it's tempting to choose PCIe if only to make use of the PCIe x1 slots that you find on modern desktop motherboards. It's possible that the bandwidth and power of PCIe may have a beneficial effect as KWorld lists a dual hybrid card that has a PCIe x1 interface.