Gull triphibiandroid sold to Welsh gov
Part plane, part boat - all robot
Most types of aircraft that one can imagine have been robotised over the last decade or so. We've seen aerial attack birds, droid-copters, stealth drones, hydrogen-powered strato-platforms, robot blimps - even dalek-style flying dustbins. It has often seemed that everything that could possibly fly has been automated.
But in fact there was one left: the seaplane. Flight International reports today that the "Gull" amphibian drone has secured it's first order, from the partly-government, partly-industry funded Autonomous Systems Technology Related Airborne Evaluation & Assessment (ASTRAEA) body. ASTRAEA is looking to "secure the future of unmanned flight" (for the UK and its aerospace industry) by cooperatively sorting out air-traffic and other regulatory issues.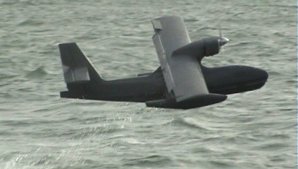 The Gull triphibiandroid.
The Gull ordered by ASTRAEA, made by transatlantic company Warrior Aero-Marine, is unusual in a number of ways. It can be used as much in the role of robot speedboat as in the air, and it can mount retractable wheels too. Warrior say it is neither an Unmanned Aerial Vehicle (UAV) nor an Unmanned Surface Vehicle (USV), but a UXV. We say: triphibiandroid. The ASTRAEA job will have 4m wingspan and be driven by a 160cc two-cylinder engine, and will use Blue Bear autopilot and instrumentation.
Warrior say that the Gull provides "high cruise efficiency in relation to helicopters and surface vehicles ... The GULL can serve long endurance missions with the ability to hold position on water for sustained periods, performing persistent surveillance and detection roles."
They also suggest that "the ability to land offshore and approach hostile situations stealthily, and with less noise and minimal radar signature in relation to rotorcraft [will mean that] covert operations can be significantly more effective and successful."
One of the main weaknesses of traditional seaplanes and flying boats is that they struggle to land, take off or even stay afloat in rough seas. The Gull, however, is supposed to be something new in this regard. The company says that it has "wave piercing capability" to cope with short, choppy seas - this is a gambit being used more and more to let small craft travel at high speed through rough seas. Examples include the Very Slender Vessel sliver-speedboats used by the UK Special Boat Service (SBS) and US Navy SEALs.
When it comes to really large swells, Warrior say that the Gull actually use the waves to assist it's takeoff: somewhat like a Harrier jump-jet taking off from the ski-jump ramp on a carrier.
"These wave capability claims," say the makers, "are achieved by accelerating only when there is a clear distance to take-off. The GULL is aided by its high lift capacity, high thrust-weight ratio and exceptional features maintaining control authority in the severe turbulence encountered over such rough water."
Another snag with seaplanes operating from ships at sea is the matter of launch and recovery. Using a normal crane or davit can, again, be very tricky in rough conditions, and often restricts the mother ship's manoeuvrability while in use. These factors have meant that fixed-wing planes disappeared from ordinary warships as soon as helicopters came in. Nowadays, every frigate or destoyer has a helicopter pad, and most have seen the future of flying robots at sea as being chopper-based.
But Warrior have a trick up their sleeve. They propose the use of a Launch & Recovery Sled (LARS), which could be towed behind a ship under way. The Gull would simply taxi into the sled, and once safely docked the whole unit could be recovered on board.
The company notes that one large-size Gull or four small ones can be stowed in docking sleds, taking up the same space as a Pacific 24 rigid inflatable - the standard sea boat aboard Royal Navy warships.
Flight notes that a prototype LARS is under development, funded by the UK government and provisionally named "Warrior Fisher."
The initial Gull for ASTRAEA will be used in formation-flying trials aimed at integration of unmanned aircraft into controlled airspace. ASTRAEA's funding "is around £32m, half of which has come from industry, and half from government authorities - £5m from the DTI and £11 million from regional bodies."
A good deal of that latter £11m is from the Welsh Assembly, and Wales would like to be a leader in the UK robo-bird industry. The trials will, of course take place in Wales.
It remains to be seen whether the Gull will ever be more than a government-funded clever idea. It could well be that naval vessels of the future will prefer to use drone helicopters rather than triphibiandroids; it could be that the Gull's potential for rough-seas use has been overstated.
On the other hand, four robo-seaplanes slotted into a boat bay sounds pretty good. A lot of seagoing organisations might like to have that, especially on vessels too small for a regular helicopter. Customs, Coastguards, small warships, the SBS - we may be seeing the Gull again.®