Motorola Q 9h smartphone
Will this smartphone eat BlackBerries for breakfast..?
Review On first viewing, the Moto Q 9h is reminiscent of a calculator; despite going for a BlackBerry-style layout, its square features haven't quite captured the improved look of those devices, and pulling it out of your pocket could see colleagues and co-workers stifling a few laughs.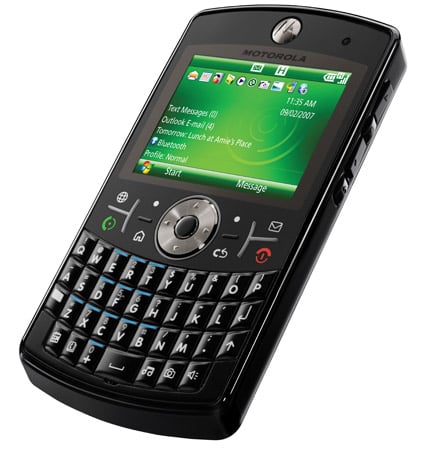 Motorola Moto Q 9h: icon shortcut keys allow quick access to applications
The big question is, does what it's packing inside make up for the lack of exterior elegance? Well, under its wide but thin hood is a 325MHz processor, 256MB of Flash ROM, and 96MB of RAM. That slightly outpaces the BlackBerry 8800's 312MHz processor and keeps Windows 6.0's loading wheel off your screens for all but the most taxing tasks.
At just 1.18cm thick it's also thinner than a BlackBerry 8800 by more than 2mm and shaves just 0.2mm off the thickness of a Samsung SGH-i600.
Shame that at 6.6cm wide and 11.5cm long it still really does look like a calculator. At least it uses that space to good effect. The 320 x 240 screen is big enough to make you think it should have touch screen capabilities, and if you've just been using this kind of phone it'll take you a while to stop prodding it with your finger.
But it's the keyboard that benefits the most. Icon shortcut keys allow you to quickly access music, camera, phonebook, calendar, messages, and the web browser. Those additional keys below the qwerty keyboard, and the placing of the number keys as functions off other letters, means the layout does take some getting used to. For instance, the first time you go to unlock the device with the star symbol it takes a keen eye to spot the blue '*' function sitting on top of the 'Z' key.
However, as the keyboard becomes more familiar you can start to improve the speed of your typing, especially in conjunction with the predictive text. The keypad even lights up to make it easy to use in the dark. Programs displayed on the screen also benefit from an automatic adjustment that boosts the brightness depending on the quality of light at your location. As well as the function quick keys, the last 10 programs are also displayed at the top of the 'Home' screen for easy access. A four-way wheel with a selection button at its centre, coupled with 'Home' and 'Back' keys, make for general ease of navigation.
Sponsored: Detecting cyber attacks as a small to medium business