T-Mobile wants our phones
Hippies to turn them in to traffic cones and buckets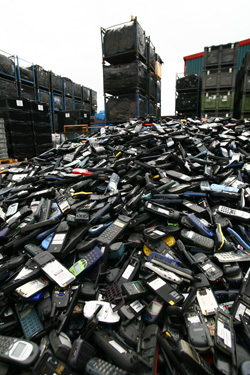 Pile 'em high.
A new survey from T-Mobile suggests that the UK population is sitting on 52.3 million old phones, with a combined value of £1.1bn, and they've kindly offered to take them off our hands too.
They go on to suggest that these phones could be used to pay for 39,000 nurses, or to buy the entire Chelsea football squad nearly four times over, though how nurses would feel about being paid in old phones isn't clear.
T-Mobile would like us to give the money to charity, any charity, but they'll hand over cash if asked. Just drop into a T-Mobile shop and ask for a free, post-paid, envelope, then fill in your address and/or chosen charity. Fonebak (the organisation running the scheme) will send on the dough (averaging £22.40, apparently) once they've checked the phone's in working order, otherwise they'll dismantle and recycle.
Most of the phones will go to the developing world; only the most useless are broken down into their component parts or materials. But wherever they end up it's got to be better than taking up space in landfill, unless it's more cones for the M4. ®