Western Digital tear it up with 2TB HDs
More storage sir? Ooh. You know you want it sir.
Storage junkies will sleep a little easier from now on, safe in the knowledge that their insatiable capacity requirements are to be met by Western Digital (WD) and its 2TB My Book hard drive range.
The launch, WD claims, is based on "insatiable" consumer demand for more storage capacity. The dual-drive 2TB hard drives will be available in WD's My Book World Edition II, My Book Pro Edition II and My Book Premium Edition II models.
Until now, the largest capacity WD My Book drive was, in comparison, a piddly 750GB across a variety of models, including the My Book World Edition and My Book Premium ES Edition.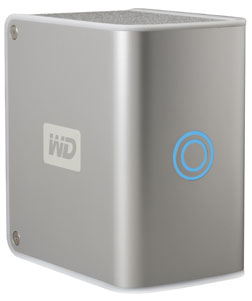 WD's 2TB My Book Pro is a hungry beast
The updated 's My Book range also offers RAID1 data protection, which can be set by users to reserve half of its capacity to mirror users' data in real time. The 2TB drives also provide remote access and sharing from anywhere in the world.
The My Book 2TB drive range will initially be available in the US, with retail prices ranging from $750 (£365/€545) to $800 (£390/€582). No UK release date or prices have yet been announced.
Earlier this week WD jumped on the eco bandwagon and revealed a series of 2.5in "green" hard drives, to help users reduce the size of their data storage carbon footprints.