Your very own R2 unit multimedia machine
Practical purchase or overweight glob of grease?
Japanese firm Nikko has created an all-in-one multimedia device incorporating projector, DVD player, media card reader and oh, so much more. So what's new, you might say, well this particular product is shaped like R2-D2 from Star Wars.
The driod has a front-loading disc slot, with compatibility for DVD-R/RW and CR-R/RW discs. His famous 'eye' is a Texas Instruments DLP projector with 80° viewing angle for watching...well, Star Wars. Image resolution is 800 x 600 pixels, while contrast ratio is 500:1 and images can be projected over a distance anywhere between 4.9' and 16.4'. You could even pretend you've stumbled across an old recorded message made for one General Kenobi...who served your father years ago in the Clone Wars...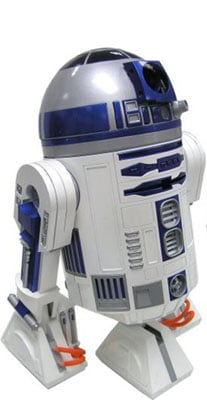 This R2 unit has no rockets: but then neither did the original
R2-D2 measures 34 x 32 x 51cm and weighs 8kg and is able to physically move around, in the traditional fashion. His arms and...um, 'foot' can also be adjusted so that the projected image can be adapted for different screens and wall shapes. FM radio is also supported, as is a SD/MMC card reader and iPod docking station. This R2 unit also supports MP3/WMA/JPEG/MP4 and DivX.
Two 10w speakers are built into the droid, which also provide R2-D2-esque sound effects, while a range of connection interfaces are also included behind a hidden panel to the rear, including a USB port, headphone stereo jack and DVI-I socket.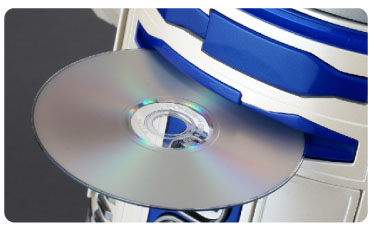 Thankfully there's no carbon scoring
An infra-red receiver is built into the front and receives commands from the Millennium Falcon-shaped remote control which, although slightly cheap and plastic in appearance, can be used to control all of his functions, including movement.
While it may be beat the Darth Vader laptop hands down as the ultimate Star Wars gadget, this title has its price, £2,000 (€3,150/$4,090), but it's available from play.com next month. No word has yet been given on the gold, blinged-up version, otherwise known as C-3PO.
Sponsored: Beyond the Data Frontier