Seagate FreeAgent Go 160GB external hard drive
Slim, sleek storage
Review Hard drive maker Seagate continues to try and persuade consumers that add-on drives aren't just for geeks but for everyone. It's latest attempt is the compact and eminently palm-able Go, part of its FreeAgent line up of external hard drives... er... "data movers".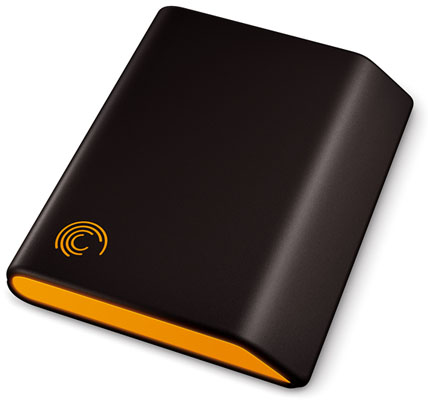 The FreeAgent Go has the same dark brown and orange colour scheme as its bigger brother, the FreeAgent Pro, which we reviewed here, and we're no keener on it now than we were before. However, the Go's wedge-shaped, low-profile design does look much more attractive than its clunky desktop sibling.
Once connected, the sides of the Go light up with the same sodium lamp hue that the Pro sported. Apart from the Seagate logo, that's pretty much it for product adornment - the Go's only other feature is a single mini USB port on the side. The contents of the packaging is equally Spartan: just the drive and the two-headed USB cable, which terminates in one standard sized connector for data and power, and another for power alone.
That's really the only flaw with the Go: you need two free USB ports to run it off. Using a laptop that only has two ports, that's an irritation. But if you've got plenty, why worry? And it's better than carrying a power brick around. Still, it lacks the simplicity of single-cable Firewire.
However, at least Seagate has supplied a cable that's capable of running from the USB port on one side of a 15.4in MacBook Pro round to the connector on the other side, and we'd say it would accommodate a 17in notebook too.
Our Go was fitted with "160 glorious gigabytes" of storage capacity, though in reality you're looking at less: 149GB give or take. Seagate also offers 80GB and 120GB models for folk on tighter budgets or with smaller storage requirements. In the UK, the 160GB model retails for around £85, which isn't half bad considering less than a year ago you'd have paid over £100 for 80GB portable drives. US buyers will pay around $150 for the 160GB model.