The rumours were true. Research In Motion (RIM) has officially confirmed its development of the BlackBerry 8820, the first handset in its history to feature built-in Wi-Fi connectivity. It also supports Micro SDHC memory cards.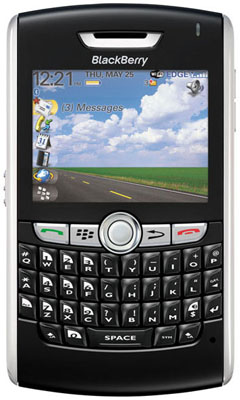 RIM's 8820: the first BlackBerry with Wi-Fi
Unlicensed Mobile Access (UMA) capability is also built into the 8820, which allows the handset to hop between GSM cellular networks and VoIP when it's within range of a Wi-Fi network. That may well help users eke out their airtime packages, but it'll be interesting to see how many of RIM's carrier partners enable the feature.
The 8820 has retained many features of its predecessor, the 8800, so a media player, GPS navigation and Bluetooth 2.0 connectivity with A2DP wireless stereo are all included. However, the new handset adds a Micro SDHC slot for Flash cards of up to 32GB.
Rumours of a Wi-Fi-equipped BlackBerry were given new life last last week when it emegred that the handset had gained the US Federal Communications Commission's approval to include the connectivity features.
No formal release date has been given for the 8820, but RIM has said that it will be available from select wireless carriers around the world "in the coming weeks", with AT&T due to unveil it in the US later this summer.
Sponsored: Ransomware has gone nuclear