LG Touch Me FM37 MP3 player
...sounds like a one-hit wonder from the 80s
Review The personal multi-media category is a crowded one and has risen to a very high point in terms of consumer awareness. However, it is still relatively young and product feature development is coming thick and fast. A bit of fresh thinking can go along way. And LG are as fresh as they come.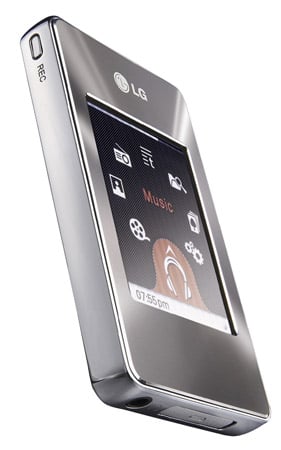 At 5.15 x 0.9 x 1.04cm and 63g, it's small enough to fit into most pockets
The category of personal multi-media players is a very tricky one to launch into with success for one simple reason, the iPod. This product dominates the scene so completely that in just a few short years it has achieved the transition that only mega-successful products achieve, when the very name of the device becomes short hand for the whole product category.
Many companies, large and small, have tried launching products into the personal multi-media world with varying levels of success. So, to come in with a new offering, you better have something good. Happily this is just such an occasion as the FM37 is a delightful little box of tricks that will quickly become a fast friend to anyone that invests in one. Two variations will be available: one sporting 2GB of Flash memory and the other with 4GB. Granted then this player in not going to impress with sheer processing power, but it has enough tricks up its sleeve to more than make up for this.
First off if you are going to call a product the Touch Me it had better feel pretty good in the hand. At first sighting we were a little worried that the brushed steel appearance of the device might mean that it had such a smooth finish that it would slip about all-to-easily in the palm of the hand. This is an annoying and increasingly common trait, especially with many mobile phones, which often means trying to maintain a grip is like trying to hold onto a wet trout. A frisky one at that.
However, the surface of the FM37 is textured so it sits comfortably and securely in the hand. Still, the real reason the FM37 is called the Touch Me is really its touch screen user interface. The user interface on any product of this type is often the make or break application...and we're back to the iPod again.
Sponsored: Quit your addiction to storage