Pepper Pad 3 Linux UMPC arrives in UK
It may not be the most attractive portable device on the market, but the Linux-based Pepper Pad 3 internet tablet has been given a technical makeover that includes faster Wi-Fi connectivity and a much needed slimmer body.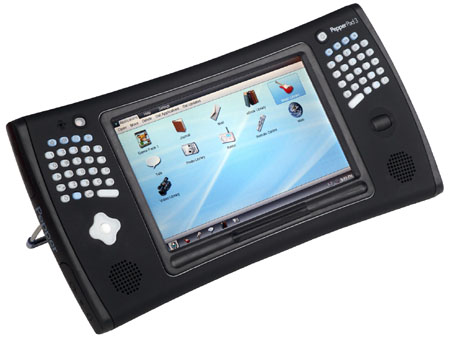 The Pepper Pad 3: additional capabilities
The Pepper Pad 3 sports a 7in, 800 x 480 (WVGA) stylus-operated touch-sensitive screen and is slightly smaller than previous models at 29 x 15 x 2.5cm. It weighs 998g, helping to make it more realistic portable internet choice, if still a little bulky.
Connectivity is provided by 802.11b/g - sadly not version 802.11n. It has a 20GB hard drive, but there's no mention of a memory card slot for that extra bit of storage capacity. There's 256MB of memory, and the Pad is based on AMD's 500MHz Geode LX800 CPU.
One thing will be sure to disappoint, and that will be battery life, because it's a measly 2-4 hours.
Model three retains the split QWERTY keyboard - not unlike Samsung's Q1 Ultra - for thumb operation. However, the Pepper Pad 3 can be connected to an external keyboard and mouse via USB and Bluetooth 2.0, should your thumbs grow tired. The inclusion of a scroll wheel and five-way directional pad should also make on-screen navigation easier.
Obviously the device is designed to do pretty much everything you would expect from an ultra-mobile PC and, thanks to two built-in speakers, it can play music and videos in a broad range of formats, including MP3 and WMA for music or MPEG-4 and AVI for videos.


Pepper Pad 3: pink for the ladies and white for the Apple-lovers
Its photo library supports JPEG and GIFs, as well as Yahoo's Flickr image share facility. E-mail is accessible by POP3 or web-based clients, such as Gmail, through the Firefox browser. It also allows for instant messaging with AOL and PDF browsing.
Coloured in a choice of Apple white, techie black and geekette pink, the Pepper Pad 3 is available now from Expansys and retails for around £400 (€593/$817).
Sponsored: Detecting cyber attacks as a small to medium business