Updated Nintendo has pulled its new Wii console game Mario Party 8 from UK shops just days after its release and during a massive TV advertising campaign for the title.
All UK copies of the game will be withdrawn from sale, the games console pioneer said, adding that it had decided to take this drastic measure because "small number of games contain the wrong version of the disk due to an assembly error".
However, it has been claimed, by CVG for one, that Nintendo pulled the game because it contained offensive language. Specifically, the site and others allege that at some point during gameplay a blue wizard called Kamek says: "Magikoopa magic! Turn the train spastic! Make this ticket tragic!"
And now a snap of the screen has appeared online, taken by Photobucket.com user Sargey22 on a Nokia N95 earlier this month: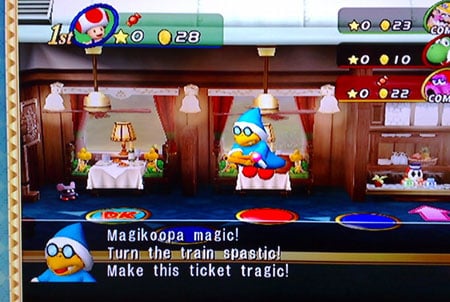 Nintendo goes on the... er... offensive again with new Wii title
Nintendo has not officially admitted or denied the presence of this sentence within the game, but if it is there, as the picture shows, it sounds a lot like us to a classic case of mistranslation from the original Japanese rather than an attempt to shock.
All this comes just weeks after the word 'spastic' was allegedly used in a derogatory way in another game, this time for the Nintendo DS.
Ubisoft's Mind Quiz game was last month also said to display the words "super spastic" if players fell below a certain score. The game was later withdrawn pending a fix.
Ditto Mario Party 8: Nintendo said it will re-launch the title shortly.
Thanks to the Register Hardware reader who sent over the link to the pic
Sponsored: How to simplify data protection on Amazon Web Services