Fujitsu fetes world's slimmest waterproof mobile
No Japanese bathroom should be without one, apparently
Sometimes you suddenly come to your senses and ask yourself what in the world you are doing. This happened to me today, as I was taking pictures of a bikini-clad beauty who was brandishing a mobile phone while standing up to her knees in a swimming pool on the roof of a nine-storey building in central Tokyo.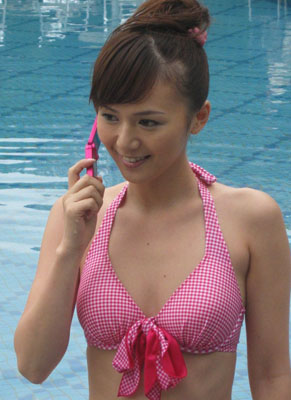 Fujitsu's F704i: your poolside pal
The answer was simple: I had been invited by Fujitsu to the launch of its latest mobile phone, the F704i, which is touted as the world's slimmest - just 1.8cm thick - waterproof phone.
Why in the name of goodness would you want a waterproof phone? I asked. The answer seems to be that Japanese people seem to frequently drop their phones into water. Or other liquids - a friend of mine dropped hers into a Japanese squat-style toilet the other weekend, but that's another story - and there have apparently been desperate calls for phones that can stand such abuse.
And Japanese people love their phones, and they love their baths. Up to now, the two have not mixed happily. There have been waterproof mobile phones, of course, but they have tended to look like Falklands-era army surplus ruggedised communication devices - not the sort of thing that any shapely bathing beauty would see as a fashion accessory.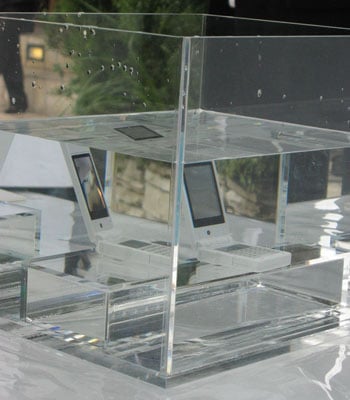 Fujitsu's F704i: immersion no problem
By contrast, the F704i - I do wish that phone makers and telecom companies would start using more imaginative names - is designed to complement the cute young things at whom the product is aimed, as the photo shows, and it will survive 30 minutes of immersion in 1m of water, or so Fujitsu claims.
So now, even in the shower or bath, you can keep in touch - and, talking of touch, a Java applet showing bathtime massage routine has been installed, for those who can't take the idea of a shower or bath minus mobile. The colours and the case, which illuminates to show incoming calls, time and date, etc. have been chosen by a "colour therapist" to enhance the mood of the user and promote healing, and to further enhance the appeal to the expected market.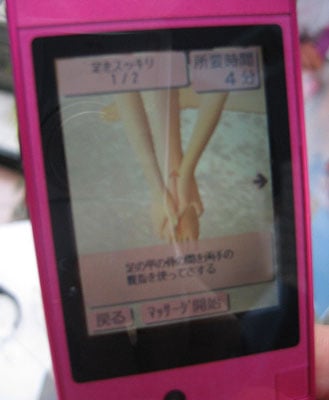 Fujitsu's F704i: bathtime massage, sir?
And while the F704i is no iPod, it does work with Napster To Go - at ¥1980 (£8) per month - and will play WMA files, all stored on a Micro SD card.
If you want to roam to tropical beaches, it's claimed that the 3G capability will work in 43 countries and regions. And, of course, there's a 1.3-megapixel camera with anti-shake built in to take pictures of your tropical vacation, and the ability to videochat using a second camera, showing your tanned features to your envious friends as you loll in the hotel pool.
And in keeping with the Japanese desire for privacy, the phone locks up the data stored in it every time it is closed, and incorporates an IC lock function.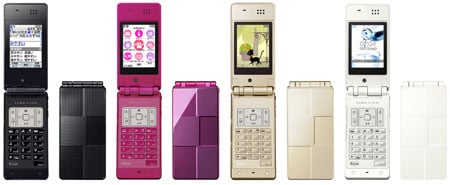 Fujitsu's F704i: available in a range of colour-therapy chosen hues
Currently, the F704i is available as an NTT DoiCoMo phone only - but it may make a later appearance with another carrier in Japan, or even overseas.
Sponsored: Detecting cyber attacks as a small to medium business