Boeing shows automated spying, flying drone
Robot spyplanes deliver on Cingular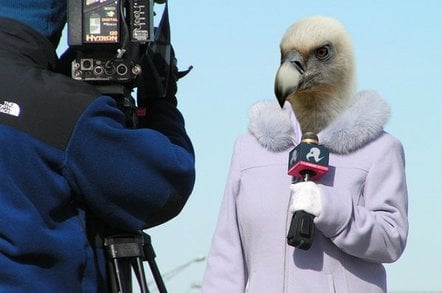 US death-tech'n'airliners giant Boeing has carried out a spy-fi-esque demonstration of military surveillance technology.
During tests in Oregon, flying robot mini-planes stalked suspect vehicles from above without human input, took orders via a mobile phone, and sent video back to the mobile as well. Then they fingered the luckless driver for violent death at the hands of strike aircraft.
Several ritzy pieces of Boeing kit were employed in the trials. First up was the Distributed Information - Centralised Decision (DI-CD) autonomous mission control software, which can direct the activities of flying spy-bots.
Describing the DI-CD software, Boeing VP Ed Froese said "mission operators are freed from micro-managing the routes and other activities. Instead, they describe their high-level goals and objectives to the system, and the software manages the [drones] to achieve a coordinated effect".
You can't ask the software for really high-level goals like, for example, "achieve a US-friendly, democratic and secular Iraq with a flourishing economy", or "improve my sex life", but it can take a lot of the struggle out of handling aerial surveillance droids.
Marshall Williams, programme manager for Boeing, said DI-CD frees human operators from laying out waypoint routes for aircraft to follow and removes the need to tell them when and how to use their sensors.
Instead, one can effectively say: "I need pictures taken in these spaces. You figure out how to do it, and if you find something interesting cue me so I can look at it."
During the tests, DI-CD enabled a single human operator to handle three "Scan Eagle" surveillance drones simultaneously, with all three working at full effectiveness.
Another Boeing trick was the so-called "Stalker" software, which allows a Scan Eagle to follow a suspect vehicle without human input.
According to Boeing: "The software continually monitored the truck's movements even as it made several abrupt turns, stops and starts...The system automatically adjusted the ScanEagle's flight path to stay undetected and in an optimal position to image the vehicle."
The machines no longer need human traitors to monitor us; they can do it alone. In the spy-fi/counter-insurgency context, however, they still need to know which vehicles to follow. This is where humans on the ground can still come in handy.
The Boeing tests also included a pretend "observer" (read: special-forces type, local agent, James Bond, etc) equipped with "a regular Cingular cell phone", according to Aviation Week & Space Technology (AW & ST).
Boeing says "an 'observer' in the field sent the location of a time-critical target" (read: a car with Osama bin Laden or someone in it, that we'd like to wipe off the map pronto before he vanishes again) "via a cell phone".
Sponsored: Detecting cyber attacks as a small to medium business