Datawind PocketSurfer 2 handheld web browser
Mobile internet for free - or just like the proverbial lunch?
The display's 640-pixel with is a limitation given that most websites are now designed for 800-pixel screens and many take 1024 as the minimum. The PocketSurfer initially presents a window onto the larger page, but it also lets you zoom in and out to see the page as a whole. The issue here is speed, but it's perhaps no slower at this than many other handhelds.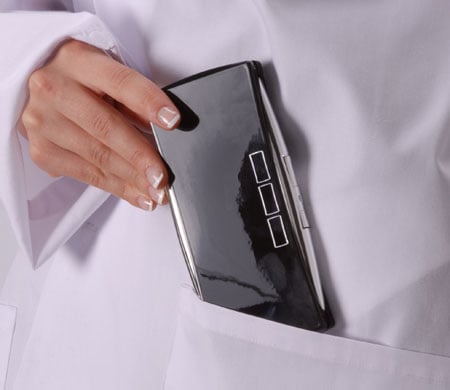 Datawind's PocketSurfer 2: eminently pocketable
Datawind said its browser can handle all the key webpage components - ActiveX, Flash, PDF, Java, JavaScript, SSL security and so on - and HTML elements like frames, and while we didn't have an opportunity to try all these out last night, we can confirm some of them do work and work well.
That said, Datawind admits the PocketSurfer 2 is "not appropriate for audio, video and fast gaming applications", so calling up YouTube may prove disappointing. Again, we look forward to trying this out in the full review.
As we noted earlier, page navigation isn't a smooth as we'd like. There's the usual pointer cursor, steered using four arrow keys arranged in a circle on the bottom right-hand side of the keypad. Pushing and holding a key scrolls the cursor in the appropriate direction, but it's uncomfortable and there's an inevitable 'up a bit, down a bit, up a bit' as you struggle to position the cursor over a link you want to click - none of which highlight when the cursor hovers over them, again making positioning harder than it need be.
Roll on the PocketSurfer 3, then, with either a BlackBerry Pearl-style trackball, a trackpad or a ThinkPad-esque joystick.
We should point out that the PocketSurfer 2 we looked at, like the handful of others on display last night, had the feel of pre-production units, and we hope the hardware construction and materials have been improved for sale.
Despite some glowing coloured logos on the lid, the PocketSurfer 2's only other adornment is a mini USB port used to recharge the built-in battery. Fully charged, the device can surf for five hours flat, Datawind claimed.
It also said the unit has a GPS receiver, though this wasn't a feature the company demo'd and we didn't have the time to investigate. It has no other features - it's not a PDA, for instance, though it can access online mail, contacts and calendaring services if you want this kind of functionality.
Verdict
If Datawind can improve the screen, keyboard and physical make-up of the PocketSurfer 2 then it will have an impressive gadget on its hands. It will have an offering that's excellent value given how pricey surfing can be on a mobile. The PocketSurfer 2 doesn't do voice, so it's not going to replace your phone entirely - indeed, Datawind isn't trying to do so - but for a lot of folk it may well be very tempting as a way of keeping up with Facebook and MySpace on the move.

Datawind PocketSurfer 2 handheld web browser
Fast web access on the move and priced to fly out the door - but will the final hardware be up to scratch?
Price:
£180 inc. 20 hours' free browsing RRP