PowerColor ATI Radeon HD 2600 XT graphics card
AMD's HD 2600 XT and HD 2400 XT debut
Review We've waited a long time for AMD's ATI Radeon HD 2400 and 2600 graphics chips. Although they were launched in May alongside the HD 2900 XT - reviewed here - it's only now that these budget and mid-range parts have gone on sale.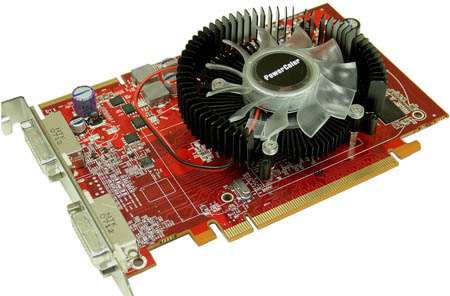 PowerColor's HD 2600 XT
Before we dive into our review of the PowerColor's HD 2600 XT with 256MB of GDDR3 memory and its HD 2400 XT, let's take a quick look at the features of the new chips. Both chips are manufactured using a 65nm process - called 65G+ - rather than the 80nm process used in the HD 2900. They're fully compliant with Microsoft's DirectX 10 and Shader Model 4. They all have two dual-link DVI connectors and may come packaged with an HDMI adaptor. The low power draw of the chips means that we can expect to see DirectX 10 AGP graphics cards that have no need for an additional power connector.
The key features of the HD 2400 and HD 2600 are the speed of the core and memory as well as the number of unified 'Stream' processors.
The HD 2900 has 320 stream processors and 700m transistors while the mid-range HD 2600 has a mere 120 stream processors and 390 million transistors. The memory controller of the HD 2600 is 128-bit so you'd predict that the HD 2600 would have about 35 per cent of the performance of the HD 2900.
The HD 2400 has a tiny count of 40 stream processors so the 64-bit memory controller manages to be both pathetic and ample. Back-of-the-envelope calculations tell us the HD 2400 is the equivalent of ten per cent of a 2900.
One significant feature of the HD 2400 and HD 2600 is the UVD (Unified Video Decoder) video engine. This is the dedicated piece of silicon that decodes VC-1, MPEG-2 and H.264 HD video streams without placing a burden on your processor. You don't get a UVD in the HD 2900 as the sheer grunt of the GPU allows it to manage video decoding all on its own. However, AMD messed with the initial driver release for the HD 2900 as it didn't transfer the workload for HD video decoding from the CPU to the GPU. That's been fixed now.
UVD is great provided you have either an HD-DVD or Blu-ray Disc drive in your PC, or you're in the habit of watching H.264 trailers from Apple's QuickTime website. The fact of the matter is that your reviewer doesn't watch HD and sticks with AVI and DivX on the PC, with DVD reserved for the living room and TV. Perhaps the advent of UVD will change our habits in years to come but for the time being its appeal is limited.
Sponsored: Minds Mastering Machines - Call for papers now open