How furry is it?
Silicon Valley subculture of stuffed animals is the largest in the world
How kinky is it?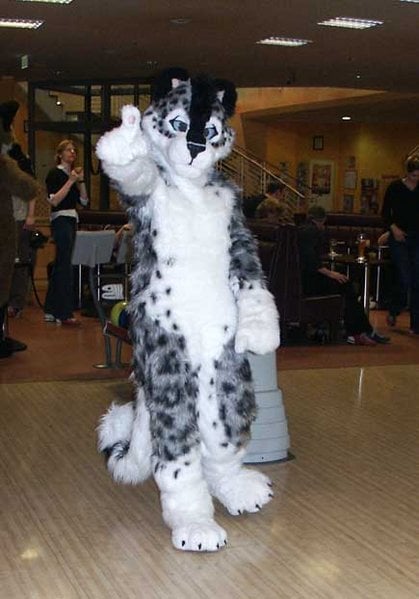 pic credit: Flutterby
Despite the foxes with exaggerated breasts and anatomically incorrect marsupials, furries purport the fandom isn't fetishistic. Furry blogs refute Vanity Fair's famous March 2001 article, saying it confuses furries for plushies - or people with a sexual attraction to stuffed animals.
"These portrayals are unrealistic and blown out of proportion," says John. "I haven&'t seen this aspect of the community. Most of the people I've met are good hearted, dorky, science fiction junkies."
Furries were similarly represented as orgiastic on "Fur and Loathing", a 2003 episode of the CBS television show Crime Scene Investigators. MTV's 2002 documentary Sex2K included a segment on furries, for which filmmaker Rick Castro has been accused of deceiving convention organizers and falsely depicting the fandom as kinky.
A dark-haired furry in street clothes makes the same argument while munching on hors d'oeuvres at a barbecue in Howling's backyard. He insists furries are wholesome, yet makes no apology for his T-shirt. An advertisement for a Hawaiian luau, the shirt reads "get laid the Hawaiian way," and features a blonde-haired fox straddling a giant totem pole.
"I've had a lot of sex at furry conventions," admits Howling, "but I'm a slut, and I arranged the party." Yet Howling says he doesn't necessarily represent the larger furry population.
Riggs re-assures conventions are kept PG so that furries can bring their kids, with risque activities saved for the after parties. Even then he says sex in a fur suit is impractical.
"It's hard to keep the suits clean," says Riggs, "oils from the skin can damage the fabric over time." Heat stroke is also a concern, even while simply dancing and parading. Many conventions offer a "headless lounge" - a room off the dance floor where those in costume can remove their headpiece, take a drink and cool down in front of a large fan.
How many furries dress up?
There are no statistics on how many furries own suits, but only ten per cent of the annual attendees at Further Confusion participate in the costume parade. The rest cheer from the sidelines in street clothes. "Most furries don't dress up," says Howling. "People also come to conventions to just draw, dance and talk about their characters." As suits have to be custom made, costs are almost prohibitively expensive. For $2,000 a suit, a costume maker that specializes in furry fashion can be commissioned. Home-made suits cost as little as $500, but usually require several months of stitching and gluing.
But what else is a giraffe trapped in the body of a computer programmer to do? Reports of animalistic behavior sometimes surface after Dungeons and Dragons marathons, and roll playing websites are beginning to introduce animal avatars. But let's face it - how can anything replace a cheek-to-cheek slow dance with a purple penguin?
And perhaps this is what gives the furry fandom a sense of community. Even if the costume only takes a few months, developing a character can take years. And like Star Trek junkies and members of the Society for Creative Anachronism - a subculture of knights and medieval maidens - furries identify with their roles and develop relationships with their fellow mis-incarnated aficionados.
"Furries are shy people who normally sit in front of the computer playing World of Warcraft," says Howling, "and being a furry is a way to make friends." ®
Sponsored: Becoming a Pragmatic Security Leader