Quantum touts high end de-duplication box
Virtual tape, remote replication and de-dupe, all in one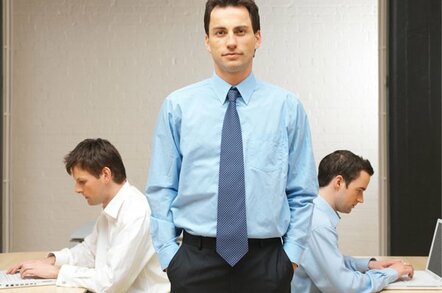 Quantum has announced a high-end de-duplication appliance, called DXi7500. The new box is aimed at large enterprises, and as well as de-dupe, it can also be used as a virtual tape library (VTL) with a path to real tape, as disk-based backup and even as straight replicated disk storage.
The company claims it is the only vendor offering this multiple functionality, and said it will enable the DXi7500 to side-step the performance limitations that have prevented it from offering a high-end de-duplication appliance in the past.
The DXi7500 also allows all those capabilities to be used side by side, with automated policies to move data between them, according to product manager Mark Galpin. So it could back-up some files in raw form to disk, de-dupe others and move a third group to tape.
The device is intelligent too, so it can move data to disk or tape without needing to involve a network media or backup server.
De-duplication is a deep compression technology, which processes data in bulk to remove repeated blocks and files by converting them into pointers. When used over a WAN, it subsequently transfers only the blocks that have changed.
Galpin said the DXi family combines technology from Quantum and ADIC, which merged last year, plus de-dupe software from Rocksoft, which ADIC had previously acquired.
Until now, the family has comprised the DXi3500 and DXi5500 - two fixed-format appliances which differed primarily in the size of their disk subsystems.
"The 3500/5500 was ADIC software and Quantum hardware - all we had to do was upgrade the software and the file system, so we had it to market in 16 weeks - but the enterprise platform was a different kettle of fish," Galpin said.
He added that the smaller systems did not push the boundaries of what's possible with de-duplication - in particular, the limit on how much data a single de-dupe engine can process in one go.
However, the DXi7500 uses a much larger LSI disk array on the back-end, enabling it to scale to 240TB, and Galpin said that trying to de-dupe that much data could severely degrade the system's speed.
So Quantum has rolled in all the other features - in fact, they are the standard ones, while de-dupe is an option which must be licenced according to the de-dupe capacity required - to create a multi-function data centre subsystem where disk capacity can be allocated to different backup options.
Galpin said the de-dupe capability also makes it possible to replicate to another DXi over the WAN, while the path-to-tape feature borrowed from ADIC's Pathlight enables it to cache backups to disk locally, then write them out to a tape library at a remote site.
The DXi's rivals include Diligence and Avamar (now owned by EMC) which both offer de-dupe software, and Data Domain which sells similar de-dupe appliances. FalconStor, NetApp and Sepaton also have de-dupe technology, Galpin said. ®