Iomega parades designer hard drive
For anyone that thought storage wasn't sexy, think again. Iomega's eGo - the name says it all... - is the Paris Hilton of data-packing, mirroring its 160GB capacity with a svelte, catwalk-ready design.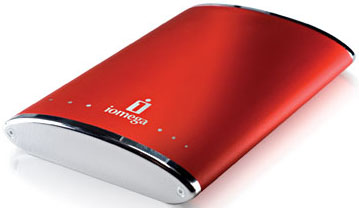 Iomega's eGo: hard drive meets hip-flask
The eGo sports a curvaceous cherry-red body, finished off with chrome. The only design flaw is that it doesn't sport a designer logo. Prada HDD, anyone?
The 160GB capacity is a nice size for a 2.5in portable drive, and the fact it's USB-powered means you won't have to lug an oh-so-last-year black power brick around with you in your man bag.
And if you drop it during a flounce, fear not - it's equipped with DropGuard, which sounds a lot like the motion-detecting, read/write head-parking data protection system so many laptops come with these days.
On the software side, Iomega bundles the eGo with EMC's Retrospect HD for back-ups.
Iomega has also unveiled a slightly uglier silver-clad sister, the Iomega eSATA, with 3Gbps connectivity and a 500GB capacity.
Iomega's eGo is available now for £99/$160, as is the eSATA, for £140/$279.