Sharp intros four-port powerline network box
Home networking, it seems, has become too complicated. Enter Sharp, coming to the rescue with its HN-VA40S and HN-VA10S adaptors, designed to help consumers build home networks using their existing electrical power wiring.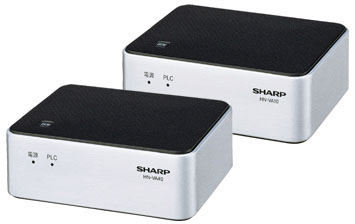 Sharp's HomePlug 1.1 powerline kit
The powerline communication (PLC) adaptors allow the electrical power wiring to be used as the transmission medium for internet-connected devices, such as PCs, games consoles and TVs.
Basing the two adaptors on the HomePlug 1.1 standard for high-speed transmission over electrical power wiring, Sharp said, will enable your humble home owner to connect a device into the Sharp PLC adapter and then plug that into a socket.
Sharp's move mirrors an earlier move by D-Link and Linksys to make home networking over mains power cables more attractive.
The main differences between the two models are that the HN-VA40S has an integrated hub allowing you to connect four network devices, while the HN-VA10S only offers a single LAN port. Most powerline adaptors incorporate only one LAN connector, so the four-port model should prove hand for folk with more networkable devices than free power sockets.
Both adaptors provide a data throuhput of to 85Mbps, protecting transmitted information using 128-bit AES encryption.
Sharp also announced that it plans to use the HomePlug standard as a basis for expanding its line-up of PLC adaptors in the future.
The two adaptors will be available in the UK in August, but pricing is not yet available.