USB adaptor helps iPod Shuffle users cut the cord
Calling all owners of Apple's second-gen iPod Shuffle - here's a handy, dirt cheap alternative to the USB cable that came packed with your player: a plug-in USB adaptor.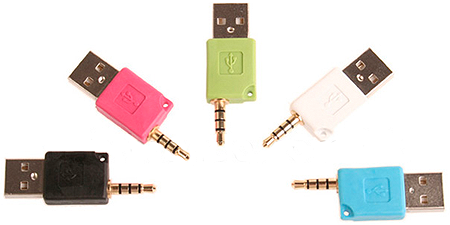 Cable-free connectivity for the iPod Shuffle
The add-on's simplicity itself: a standard USB connector the ends in the Shuffle's stereo-audio-plus-power-and-data 3.5mm jack. Plug it onto the Shuffle and you can hook the player up to a PC or Mac directly to charge the Shuffle's battery and copy over songs.
Offered by Hong Kong gadget supplier Brando, the Shuffle adaptor costs a mere $7 (£3.50/€5.20) and comes in a choice of Shuffle-friendly (ish) colours. It's available now, here.