Sling Media has brought its SlingPlayer mobile TV viewer application into the Windows Mobile 6 era with a version of the code that supports Microsoft's latest smart-phone system software. Its pre-release Palm OS app has been tweaked too.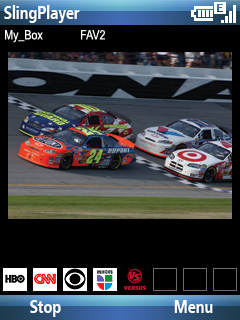 Sling's SlingPlayer Mobile for Windows Mobile 6
The new version will run on both smart phones and PDA phones running, respectively, Windows Mobile 6 Standard and Professional editions, along with older versions of the OS back to Windows Mobile 2003 Second Edition.
Releases of the application supporting Sling's US, Canadian and UK incarnations of its set-top internet streaming product, the Slingbox, are available from its region-centric websites, reached here.
Unlike the PC and Mac versions of SlingPlayer, SlingPlayer Mobile costs £20/$30 if you want to use it after a 30-day trial period.
Sling also released its second beta release of the Palm OS version of Sling Mobile, currently free of charge. The app is aimed at Palm's Treo 700p and 755p, but it can be installed on earlier Palm OS-based models.
Sponsored: Webcast: Discover and secure all of your attack surface