Toshiba 'world's lightest' laptop wafts down
Toshiba has bulked up its Portégé notebook range, albeit only slightly, with the unveiling of the R500 - a 779g featherweight that the company claims is the world's lightest laptop.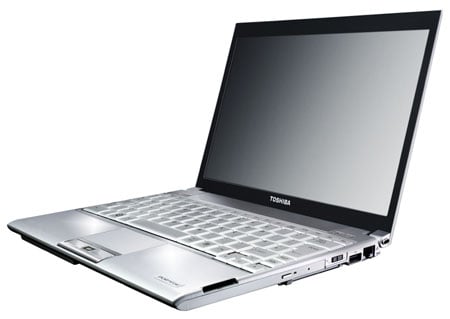 The 12.1in Portégé R500 line, the successor to the R200 and R400 - reviewed here - consists of a model fitted with a 120GB HDD and a second machine, this time with a 64GB Flash-based drive.
The solid-state disk (SSD) Portégé weighs 119g less than the 898g Vaio G that Sony announced as the world's lightest laptop in November 2006.
Toshiba unveiled the R500 at a London event today, teaming up with explorer David Hempleman-Adams, who next month will take the notebook on a transatlantic hot-air balloon flight.
Weight is clearly the R500's strongest selling point, although it also packs a host of capabilities into its 28.3 x 21.5 x 2-2.6cm frame. The R500 also wins a number of firsts, Toshiba claimed, including being the first notebooks to incorporate a switchable trans-reflective LED backlight LCD for indoors use and out, and the first to use a 64GB SSD.

We played around with the machine though and found the screen to be a little too flexible. Its minuscule thickness meant it doesn't have the sturdiness of most other notebook screens.
Under its hood, the R500 has an Intel Core 2 Duo 1.30GHz processor with 1GB of DDR 2 memory, 802.11n Wi-Fi and Bluetooth 2.0. The 1280 x 800 display is driven by the integrated Intel GMA 950 engine.
Toshiba claimed the R500 will run for up to seven hours on a standard battery, rising to 12.5 hours if you plug in the optional extended-run power pack. Nice extras include a fingerprint reader and spill-proof keyboard.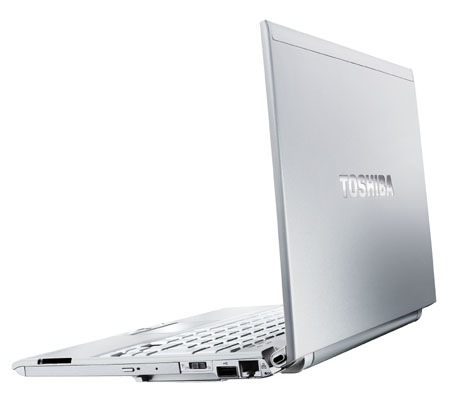 The Portégé R500 with rotating HDD is available now, but t the 64GB Flash version doesn't arrive until August. Both will retail for £1099 (€1634/$2189), undercutting the comparable Sony Vaio TZ by about £300.
Sponsored: What next after Netezza?