VoIP firm launches headset smashathon
Jajah deploys leggy SWAT team
As part of a Skype-bashing push to cast-off VoIP's image of PC-bonded geekery, Jajah has launched a bid to find the most creative way to destroy a headset.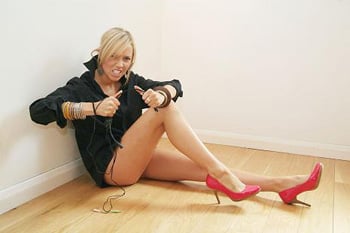 Cheap publicity gimmicks? They've heard of them
The Austro-Californian start-up, which recently got big name backing from Intel and Deutsche Telekom (DT), has set its sights on becoming "the Google of VoIP" by driving web telephony into the mainstream.
To that end, it has set up a special website where users can send in clips of their headset-dispatching antics, and promises "über cool" t-shirts as prizes.
To get you started it's provided a video (with examples here), and engaged the services of a young VoIP expert (pictured), who clearly feels strongly on the issue.
Along with hippie-chic rival Rebtel, Jajah is part of a new breed of VoIP firms who allow free and cheap calls from and to normal fixed line handsets or mobiles by plugging the digits into a website. Jajah's deals with Intel and DT should see the technology embedded in computers and phones in the next couple of years.
Mobile software developer Shape Services has just released a new version of its IM+ messaging package, which gives Skype users similar functionality. ®