Evesham 26in Alqemi V and VX HD TVs
Hi-def, lo-price
The remote's design could be improved with a splash of ergonomic styling and a rubber under-sole to prevent it slipping off the arm of a sofa. Since it doesn't even boast an Evesham logo on it, the remote could easily fade into another piles of faceless controls around the house, leaving you wondering, 'What's this one for?'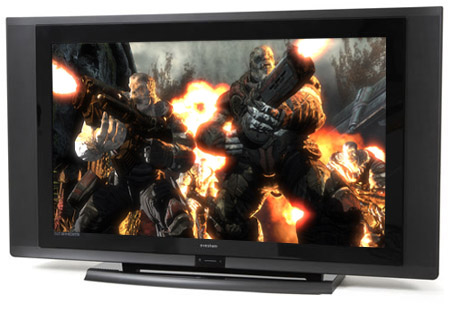 Evesham 26in Alqemi VX HD TV
Back in the menu systems, both the V and VX did allow us to fiddle around with the colour temperature – a nice feature, but one that in reality made little difference to varying shades of blue menu displayed on screen.
Both models carry the HD Ready logo, so each has an HDMI input. Alongside that are a pair of Scart connectors, along with an array of s-video, component-video, DVI and even VGA port. We connected each up to our HD DVD-equipped Xbox 360 via the component connectors. On each model, the connectors are positioned at the back of the set, low down and within a recess, so reaching any of them is - put simply - a major pain in the arse.
The VX model has a slight connectivity advantage: it features a Common Interface/Conditional Access Module smart-card slot on its right-hand side so it's ready for TopUp TV. It also has an extra HDMI port.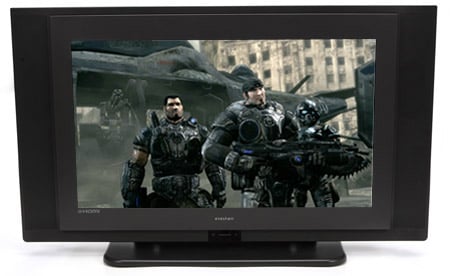 Evesham 26in Alqemi V HD TV
Before we'd even had a chance to experience the image quality of King Kong in full HD glory, we were hit by the sound quality. Built in 8W stereo speakers on both models work to an exceptional level, ensuring that the great ape's roar was clear, full of bass and distributed evenly from the left and right-hand speakers. Vocal clarity also remained exceptionally good throughout the film - is more than you can say for the movie itself.