Microsoft versus BlackBerry versus, er, BlackBerry?
How do you select the right mobile email solution?
The results of our latest Reg panel survey (completed last week) confirm that many organisations have already selected a solution for mobile email.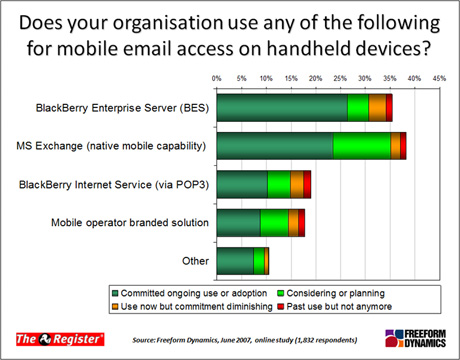 As we can see from this graphic, however, there are still quite a few people that are at the "considering or planning" stage – even some that are reconsidering their original decisions in this area. The question of what's important when evaluating, selecting, and implementing mobile email solutions is therefore still very pertinent. Before getting into this, however, it is worth reviewing what's generally going on this area.
Looking at on premise solutions, i.e. email relay capability running behind the firewall, while Microsoft finally appears to be getting its act together with native Exchange functionality and Windows Mobile, it certainly isn't a slam dunk for the Redmond giant in this space.
RIM is fighting back hard and giving at least as good as it gets with its BlackBerry Enterprise Server (BES) and rapidly evolving device capability. It's not shown on the chart, but the research also tells us that commitment to RIM is particularly strong in the large enterprise space, where BlackBerry sites still outnumber those using the native mobile capability of Exchange by a ratio of 2 to 1. This gap closes progressively as we look at smaller and smaller organisations.
Speaking of smaller scale requirements, another observation from the research is that RIM is also engaged in another part of the market, that aimed at mobile enabling POP3 mailboxes. There is clearly a consumer play here, but this kind of solution is also required for many smaller businesses in particular, whose email is hosted by a service provider.
The choices being adopted or considered at the moment appear to be the BlackBerry internet service and the various mobile operator branded services that have come into being over the past couple of years, with action split approximately equally between the two camps. Either way, there is typically a mobile operator hosted relay involved in the equation, whether RIM based or otherwise, which is delivered as a service on a fee per user per month basis. The added advantage here is that there is no mobile related infrastructure to manage for the customer, and it is interesting to note that even some of those who run their own email servers (e.g. Exchange) in premise are going down this hosted relay route.
Beyond Microsoft, RIM and mobile operator branded relay services, there's clearly a significant number of other options being taken seriously, though it has to be said that things get very fragmented on the supplier side when you look at how the "other" category breaks down.
So, with all of these options, what should be considered when looking at alternatives? There are some obvious things to think about such as the nature of your existing email setup, which in itself will narrow the possibilities, but you are still likely to end up with at least a couple of possible routes and a range of potential suppliers.
We'll be providing our own views on this topic later this week, but in the meantime, we would be interested in the thoughts and experiences of readers. We'd be particularly interested in feedback from people who have been through a selection process recently or are currently reviewing options – what selection criteria did you come up with, for example, and how do or did the various options you considered stack up? And if you made your decision a while back, has it worked out the way you anticipated?
It would be great to get your comments in the feedback box below... ®