ExpressCard 34 digital TV tuners debut in Japan
Travelling to Japan with your ExpressCard-equipped notebook? Then you may care to sample the delights of the nation's bizarre - by Western standards - telly programming with local supplier Sanwa's new ExpressCard 34 digital TV tuners.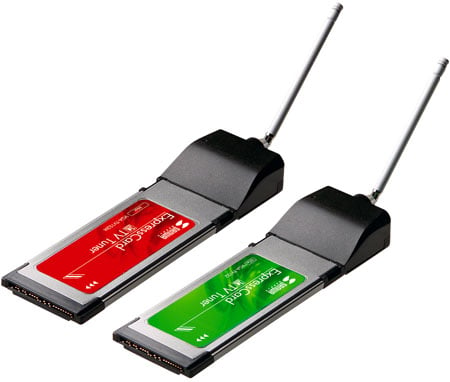 Sanwa's ExpressCard Japanese TV tuners for Mac (left) and Windows
Sanwa today launched two cards, one for Windows machine, the other for Macs - respectively, the VGA-TV1S2 and the VGA-TV1S2M. The Windows version is green, the Mac model red.
Both models incorporate EPG (Electronic Programme Guide) software, but while the Windows version also comes with a DVR application, Mac users are denied this. The card comes with three types of micro-antenna, and there's an adaptor to allow you to connect the card to the F-type output from a roof-mounted aerial.
The real snag: the card's tuned to Japan's ISDB-T terrestrial digital TV standard, so it's of limited use outside the nation. Well, apart from Brazil, which has adopted ISDB-T as the basis for its digital TV transmissions.
Sanwa didn't set a price for the cards, but local media estimate the Windows and Mac products will retail for, respectively, ¥10,800 ($89/£45/€66) and ¥11,800 ($96/£49/€73).
Sponsored: Detecting cyber attacks as a small to medium business