Orange goes green for festival phone-fuelling
Wind-powered charger prototyped
Eco-warriors planning to head down to the Glastonbury mud festival - sorry, music festival - later this month will be able to re-charge their mobile phones in an almost entirely carbon-neutral fashion.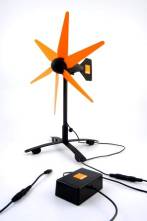 Orange's wind-powered phone charger:
UK climate friendly
Orange today launched a prototype wind-powered charger capable of delivering a constant supply of green juice despite "the unpredictable English climate". How? The turbine charges a battery, and it's from that power pack that the phone's own battery is charged.
It is, of course, a variation of one on humanity's oldest devices, the windmill, though this time kitted out in suitable, sponsor-friendly colour. The windmil weighs a mere 150g - let's hope it's capable of being anchored against strong gusts - and is compact enough to be tucked into a rucksack.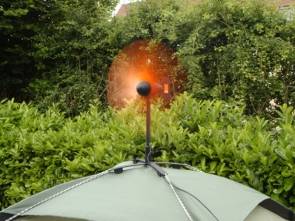 Orange's wind-powered phone charger:
sorted out for Es and... er... whizz
The idea is you plant your windmill then go off and down to the groove - and probably high on something else. On retiring for the night, you plug in your run-down mobile which is ready to party again the following morning.