IT's green dilemma: plant trees or chill your cheeks
To subscribe to Channel Register's weekly newsletter - seven days of channel news in a single hit - click here.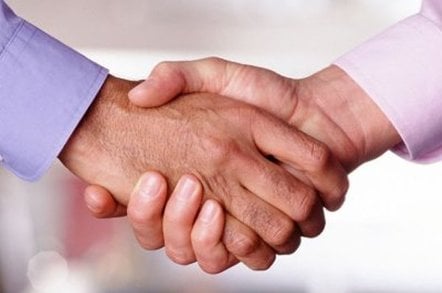 We start this week in a green frame mind. Some people - Kermit the Frog, Van Morrison and Frank Sinatra think "it's not easy being green" - but the computer industry is doing its best to get us all involved.
Intel and Google unveiled the Climate Savers Computing Initiative and got a wide range of hardware and software vendors to join in, including IBM, Microsoft, Sun Microsystems, AMD, Canonical, Yahoo! and EDS.
Dell trees grow on money
While they were saving the climate by, among other things, getting us to buy more energy efficient power units, Dell was extending its Plant A Tree For Me scheme to Europe. The scheme gives users the chance to make a small donation to counter the emissions from keeping their computers running. They can donate £1/€1.50, £3/€4.50 or £20/€29.50 to contribute to the replanting of trees in "professionally managed reforestation projects".
Does not calculate
Meanwhile, not to be outdone, HP Ireland announced plans for a carbon footprint challenge for its 4,000 employees to help make the company greener. The challenge is part of a company-wide effort to reduce energy usage by 20 per cent before 2010. Among other things, employees will also be able to use an online carbon footprint calculator tool. Does that mean they'll be using their computer more than normal to access the carbon calculator?
Can we grow the trees fast enough?
With predictions that over one billion PCs will be in use worldwide by the end of 2008, it's no wonder IT vendors are getting so concerned about being concerned about the state of the planet. Forrester Research also predicts that with growing adoption in emerging markets, there will be more than two billion PCs in use by 2015. That's an awful lot of trees to plant!
China name calling a good thing
Talking of emerging nations, despite its reputation as a big emitter, China leads the way when it comes to one form of recycling: names. The majority of Chinese people adopt one of a hundred single character surnames, which means there are now 93 million Wangs and 92 million Lis. The name Wang Tao is common to more than 100,000 people. Maybe we should all call ourselves Green and get it over with.
Safari so far not so good
It was a big(ish) week for Apple with its worldwide developers conference (WWDC) where CEO Steve Jobs showed off some of the features in the next version of OSX due in October and announced a beta version of its Safari web browser for Windows.
Unfortunately, researchers identified 18 exploits in the Safari 3 beta and it also had problems viewing bold text on web pages.
The good news is that the Advertising Standards Authority (ASA) upheld Apple's claims in its adverts that Macs were more secure and less likely to crash or pick up a virus than Windows PCs.
Where's the man with the plan?
This may not sound like good news, but it could be. According to a survey commissioned by IT service management firm Partners in IT, a third of medium-sized companies in the UK have no IT strategy and a further third work to an "informal loose plan".
Fifty-five per cent of business managers surveyed believed their IT set-up wasn't providing good value for money. In 65 per cent of cases, the various IT systems (accounts, marketing, sales, etc) were operating independently of each other. It's not a good reflection on their incumbent IT partners, but it sounds like a lot of medium-sized companies might need some good advice from a trusted IT adviser.
Cut jobs, not costs
Speaking of IT strategies, Bradford Council has got its public services union, Unison, very annoyed. The union claimed "spiralling" computer systems costs were behind the council's decision to axe more than 400 jobs. It said a £110m contract with IBM/Serco had nearly doubled to over £200m in the space of two years.
Fujitsu jobs boost for NI
But if Bradford was losing out on the jobs front, there was good news for Derry and Belfast when Fujitsu Services announced plans to create 400 jobs as the result of a planned £18m investment in the region by the company and Invest Northern Ireland.
The project is predicted to bring more than £24m into the local economy over the first three years. Fujitsu Services also posted an increase in revenue and profits and claimed a record forward order book of £6.6bn, up from £6.5bn last year.
No tariffs please, we're EC
Another piece of good news was the European Commission's dismissal of a suggestion that it was planning to impose tariffs on IT goods. IT trade body Comptia claimed "back-door" methods had been employed by the EC to apply tariffs to IT goods that had previously been exempted from such charges. But the Trade Commission said the EC had no power to make such changes without first consulting the 150 state members of the WTO, including the US.
Kelway snaps up Elcom
On the channel front, Kelway acquired rival UK reseller Elcom ITG for an undisclosed sum. Elcom will operate as a separate brand under Kelway, which expects to see a group turnover of more than £100m post-acquisition. Kelway managing director Phil Doyle said Elcom had "massive potential to thrive as part of the Kelway group".
Separation is best for both of us
At the same time, managed security services firm MessageLabs and Star Technology Services, the business-focused ISP that gave it birth, revealed they would become separate companies via a management buyout of Star. The separation of the two firms is designed to make it easier for each to expand: MessageLabs wants to continue to grow globally and add to its portfolio of net filtering and security services; Star wants to focus on providing connectivity, hosting, email, and security technologies to its target market of small businesses based in the UK.
And for us as well...
Meanwhile, Morse sent a message that it would demerge and list its mobile banking business Monitise on London's Alternative Investment Market (AIM).
Monitise, which provides mobile phone software for users to access their banking details, hopes a share placing will help it raise £20m to fund investment. The firm, which has 12 million UK users through existing contracts with the likes of HSBC Holdings plc, has an ambitious target of 33 million users by the end of the summer. The decision to split the two firms was made to "allow each to pursue its own independent strategy".
We'll put you together again
It was a different story when private equity group Hellman and Friedman bought CSG and Iris Software from HgCapital - the firms' previous private equity owners. The newly-combined company will trade as Iris Software Group with turnover of more than £100m. Iris specialises in accounts software, while CSG provides software to lawyers and not-for-profit concerns.
A mandatory Microsoft story
We couldn't leave without mentioning Microsoft and the US Justice Department's memo urging state attorney generals to reject Google's anti-trust claim against the software giant. The memo, sent by assistant attorney general Thomas O Barnett (formerly a senior partner in the anti-trust division of lawyers Covington and Burling, which represents Microsoft) may have the opposite effect.
A typical Scotland story
The Federation of Small Businesses has rated Scotland the worst-performing small country in Western Europe because of its notoriously poor life expectancy rate.
But a fuller reading of the report (which this Scotsman felt compelled to do) would have revealed that Scotland was above the UK in terms of education and employment in the OECD 31 figures and well ahead of the likes of Germany, the US, and France.
Geeks wear kilts for open access
One thing Scotland probably didn't need, given its poor life expectancy and high cholesterol levels (someone has to eat the urban legend deep fried Mars bars) was the sight of a horde of open source geeks running around Edinburgh in special Debian kilts. The worldwide Debian conference is running in the city from 16-23 June. If the Scots don't die from shock, they'll probably die laughing.
Employers pay as you go
UK workers are spending £400m a year on personal calls using company mobile phones, according to research by telecoms expense management firm Aurora Kendrick James. It estimates companies can save as much as £80 a year per employee by monitoring phone usage and educating workers not to use their mobiles for personal stuff.
Does my bum look green on this?
We could have finished this week with the news that Sony claims to have sold more than a million PlayStation 3 consoles in Europe, Australia and other territories that use the PAL TV standard, but we had to pass it over in favour of the USB cheek chiller. This is a PC-powered cooling seat cushion from Japanese gadget specialist Thanko which uses a built-in fan to pull cool air from near the base of your chair and pump it up and out through holes in the seat of the cushion to cool your posterior to a more comfortable temperature. Sounds intriguing, but while it might cut down on warming, we're not sure what effect it will have on emissions! ®
Sponsored: Minds Mastering Machines - Call for papers now open