Dell Dimension C521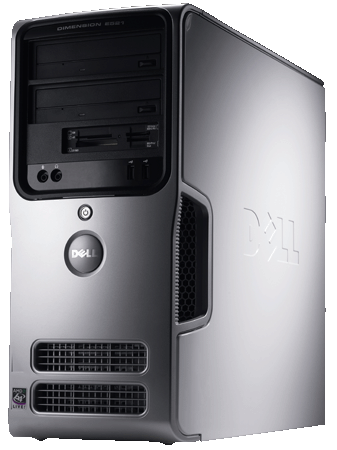 Dell's Dimension C521 has been tailored to the home entertainment and 'general needs' market and combines decent all-round features with an accessible price point, complemented by a bundled 19in LCD monitor. Notably, the Dell is a good-looking and supremely well-proportioned system, sitting at only 11cm thin when side-standing and finished in an attractive, sculpted black and silver chassis. It shouldn't look out of place in any home office or living room.
A general perusal of the specs list reveals the Dell's capable but not overly ambitious aspirations. Powered by an AMD Athlon 64 6800+ CPU and an ATI Radeon X1300 GPU, and with 1GB of DDR 2 RAM, it's located in the mid-range but is more than powerful enough to run the Windows Vista Home Premium it now sports. And even with modern software's seemingly insatiable appetite for running high demand multimedia applications, the graphics chip will ably cater to it, and the system run as quietly as a mouse with its mouth taped up.
Hard drive options in the C521 stretch all the way to a massive 500GB. The more storage you want, the more it will cost, though hard drives are not as pricey as they once were. There's also a DVD writer for further storage options that writes to all formats bar DVD-RAM.
On top of this comes 7.1 audio support, plenty of connectivity, that 19in display - which whilst nothing spectacular is perfectly respectable - and plenty of room to upgrade for the future. And all at a price that won't leave your wallet in serious need of resuscitation.
Dell Dimension C521
---
Best for the family
Fun for everyone with this family-friendly, PG-rated PC
Shuttle XPC P2 3700G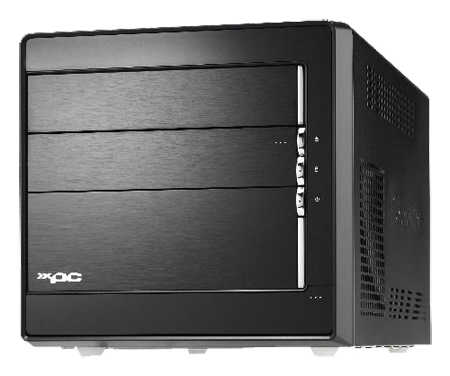 Granted, Shuttle's 3700G may not be the cheapest small form-factor PC currently available - and probably doesn't represent the best pound-to-gram ratio budget wise - but it is an unbelievably capable machine crammed into a tiny little box.
This is the very top spec model available from the Shuttle online system builder, as you can tell from the price, although opting for less memory, smaller hard drives and the like can significantly reduce the cost and hence the performance. The 3700G is a tiny system – half the size of your average desktop – and won't take up too much room no matter where you put it.
Pre-installed is a proprietary motherboard based on an Intel 975X chipset and Core 2 Duo Extreme X6800 CPU, and packing 4GB of 667MHz DDR 2 SDRAM. Shuttle has also managed to somehow cram in a 400GB Samsung SATA hard drive and 14x dual-layer DVD writer. So there's plenty of power and storage for numerous multimedia applications and storing your files, photos, music and movies. For gaming, graphics are looked after by the excellent Nvidia GeForce 7950 GX2 card - a dual-GPU board, it renders the Shuttle a very serious option for gamers as well as HD fans thanks to its HDCP compatibility.
Tooled up with Windows XP Professional Edition, and packed with so much high-end hardware, the 3700G is capable of performing absolutely any task you're likely to throw at it, and will do so with the smallest footprint on your home thanks to that minimal, cubist exterior.
Shuttle XPC P2 3700G
---
Best for small spaces
Shuttle proves that size isn't everything with this high-powered but compact PC
Sponsored: How to simplify data protection on Amazon Web Services