WD puts 250 gigs in pockets
Western Digital has rolled out a bus-powered pocket hard drive that provides a whopping 250GB - pretty big for a product of this kind.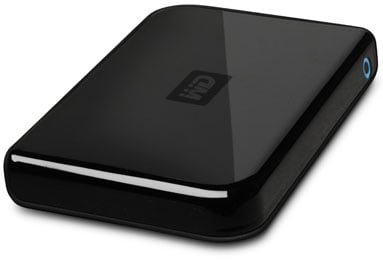 WD Passport: 250 gig in your pocket
Part of WD's Passport range, the piano-black shiny drive connects to a USB 2.0 port. It'll happily connect to Windows 2000/XP/Vista PCs and Macs - Linux boxes too, we'd say - but the bundled 128-bit data encryption app is Windows only.
Folk with computers that limit USB power will need an extra, two-port cable to power the drive, WD admitted. Such a cable is not bundled with the drive, alas. At the time of writing, WD hadn't revealed how much it will charge for this "optional" accessory.


WD Passport: skinny yet capacious
The 250GB Passport itself costs $199, and is available now from WD's retailers and its own online shop.