PSP patent gets gadget geeks guessing
Game console as mobile phone?
We're not sure who found it first, but a patent has been issued in the US (numbered 20070123309), which highlights just how Sony might allow the PlayStation Portable to become a cellular handset.
The news is all over gadget sites this week and is accompanied by the drawings below. In essence, it is a simple way to rotate the insides of a handset so it resembles a PSP and can then be used as a portable handheld console.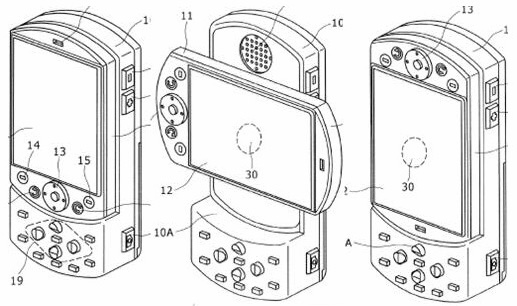 The drawings with the Sony patent filings
The patent talks a lot about a case and a second case, and a rotary support mechanism. The idea is to move certain keys to the sides - just like a PSP - for that familiar game play feel. The patent was filed in November 2005 in Japan by Sony Ericsson, and has just been granted in the US. But that doesn't mean such a device has been, or ever will be, built.
For our money the PSP is better extended into a handset using a portable speaking kit. And anyway, the deal between Sony and British Telecom last week more or less positions the PSP as a VoIP handset, without any physical changes.
Copyright © 2007, Faultline
Faultline is published by Rethink Research, a London-based publishing and consulting firm. This weekly newsletter is an assessment of the impact of the week's events in the world of digital media. Faultline is where media meets technology. Subscription details here.
Sponsored: Practical tips for Office 365 tenant-to-tenant migration