IBM and HP fight over EMC's scraps in Q1
Internal disk eats away at DAS
IBM and HP are neck-and-neck for the second place position in the external disk storage market but remain well behind EMC for top billing, according to the latest report by research house IDC.
EMC leads the pack, ringing in $912m worth of sales during the first quarter and taking 21.2 per cent of the market. Although EMC continues to run the show with over $300m greater revenue than its closest competitor, the company's external storage sales only expanded by 0.1 per cent from last year.
Hewlett-Packard squeaked out a second place victory over IBM, with $575m in first quarter external storage revenue. HP commands 13.4 per cent of the market, but revenues shrunk by 1 per cent since last year's Q1 results.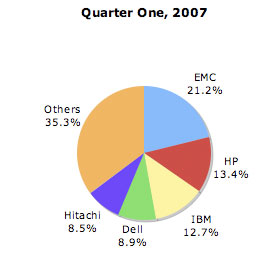 IBM gets the yellow, third place ribbon with $520m worth of external storage revenue in the first quarter. Big blue expanded by 4.8 per cent from last year, taking 12.8 per cent of the market share pie.
Dell grew a healthy 12 per cent from last year, taking $383m during the first quarter, while Hitachi took in $364m and expanded revenue by 7.1 per cent.
"External direct-attached storage continues to decline, being cannibalized primarily by network storage systems," IDC researcher Natalya Yezhkova said. "The other threat to external DAS is coming from internal storage that grew at 10.5 per cent in the first quarter of 2007. Developments in the server market, including server virtualization and the adoption of multi-core processors, has lead to deployments of servers with larger storage capacity, thus adding to the decline in external DAS."
External disk storage refers to systems not built into a server. It represents most of the storage market.
In total storage sales, HP led with $1.24bn revenue and 20.1 per cent of the market. IBM followed with $1.12bn Q1 revenue and 18.3 per cent of the market. EMC is third with $912m in revenue, at 14.8 per cent of the market (which is the same as its external storage figures because that's all they sell).
Overall, first quarter external storage revenue grew by 5.9 per cent to $4.3bn, according to IDC. ®
Sponsored: Minds Mastering Machines - Call for papers now open