Ask.com rolls out new algorithms, skins
Four per cent of all Web searchers take notice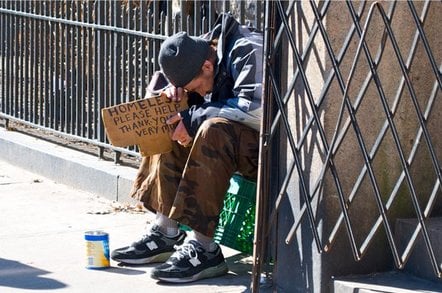 Take that, Google. On Tuesday, Ask.com unveiled a revamped version of its online search engine, the web's fourth most popular behind Google, Yahoo!, and MSN/Live.com.
Dubbed Ask3D, the new Ask.com offers a fresh interface and an underlying search technology designed to give users quicker access to the data they're looking for.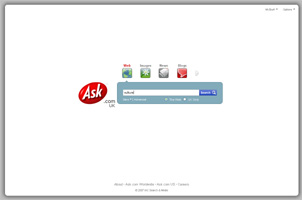 The new Ask.com home page, without a customized background image (Click to enlarge)
"Ask3D reduces the amount of hunting and pecking it takes for people to find what they need," said a statement from Ask.com CEO Jim Lanzone. "We do this by delivering the right information, from the deepest range of content, all on one clean and simple page."
Using a new ranking algorithm, which the company likes to call ExpertRank, Ask.com now sorts its core search results according to the makeup of particular "expert communities" it identifies across the Web.
"Over time, we can recognize that there are, say, 200 expert sites focused on cricket," says Michael Ferguson, senior user experience analyst at Ask.com. "And we know that most of the good cricket results should come from those 200 sites."
At the same time, a second algorithm, dubbed Morph, augments those core results with images, Wikipedia entries, videos, and other related content, posting the late to a single results page.
"Rather than just providing links and sending you off to other things, we want to actually bring content to the results page and help you better understand a topic," continues Ferguson. "And for different searches, you'll get different content. A search for a particular politician might give you news stories and blog posts, while a search for musician might be include music and performance schedules."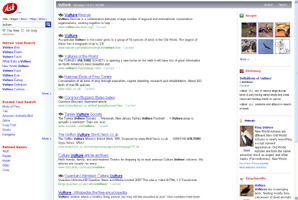 The new Ask.com.results page (Click to enlarge)
From this multifaceted results page, users can listen to music clips and preview video files. They can expand image thumbnails with a mouse-over. Or they can refine searches, instantly narrowing parameters, expanding them, or switching to related topics.
Ask.com has also revamped its home page, adjusting the look and feel and giving users the power to customize the page's background. Today, they can choose from eleven different "skins," but later this summer, users will also have the power to upload their own background images.
According to the latest figures from Hitwise.com, based on the behavior of 10 million US Internet users over the month ending May 26, Ask.com accounts for 3.92 per cent of all Web searches. Google tops the market at 65.13 per cent, followed by Yahoo! at 20.89 per cent. ®