Melting glaciers race for Antarctic shores
Speedy ice flow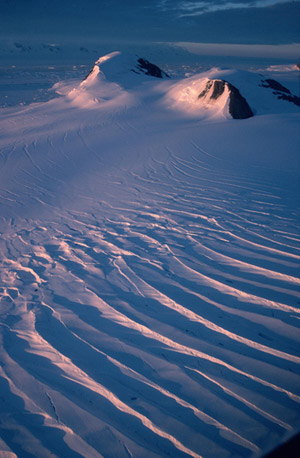 They are not noted for their speed; quite the reverse. But over the last decade the glaciers in Antarctica, clearly upset by their reputations as laggards, have been accelerating.
The boffins at the British Antarctic Survey (BAS) say that on average the white continent's glaciers were heading for the sea 12 per cent faster four years ago than they were in 1993.
The researchers tracked the acceleration of more than 300 previously unstudied glaciers using the European ERS-1 and ERS-2 satellites. They attribute the speed gains to the melting of the lower glaciers, those that flow straight into the sea: as they thin, the remaining ice is more buoyant, meaning it can move over the rock more quickly.
Earlier this year, Australian researchers warned that glacial melting was approaching a so-called tipping point, after which it would be irreversible, leading to substantial rises in sea levels.
The BAS notes that the IPCC (Intergovernmental Panel on Climate Change) said without more data it was impossible to put an upper figure on the rate of sea level rise that could be caused by glacial melt in Antarctica. This new data should help clarify the situation, the researchers say, leading to more informed policy decisions.
The paper, Widespread acceleration of tidewater glaciers on the Antarctic Peninsula, by Hamish Pritchard and David Vaughan, is published this week in the Journal of Geophysical Research. ®
Sponsored: Detecting cyber attacks as a small to medium business