LG U970 Shine mobile phone
Why do new products sound like WWII submarines?
Texting (should that be txting?) is a pleasurable process akin to Nokia's high standard of logical and under-friendly input. Messaging capabilities on the U970 also support all major formats; SMS, MMS and EMS.
The U970 is also fully email compliant. We tested its ability to hook us up directly to our email account and, although it proved quite fiddly to set up, worked smoothly for both sending and receiving emails thereafter. Should this feature be unavailable for any reason though, the U970's internet access will enable for access to web-based email accounts, such as Gmail etc.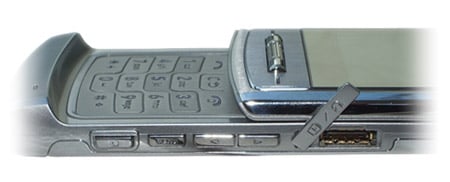 The LG U970 Shine primary port doubles as a power charger port and the headphone jack and
USB port, meaning we were unable to charge, listen to MP3s, and transfer data at the same time.
By now we had used the phone for several hours and the battery was starting to run down to about 60 per cent, with LG claiming it can provide around three hours' talk time and around 261 hours in standby. Thankfully, a standby mode that dims the display after a set period of inactivity helps save some of its precious battery time.
A more worrying problem, though, was handset heat. The top section of the phone's underside seemed to heat up like a radiator after several hours of use and actually became quite hot to the touch.
After a cool down period we got back to the entertainment features and found that the U970 is a medium weight contender here. It is equipped with Java games and, because our test version was on 3's network, we were able to access a huge list of quick to download games, thanks to its HSDPA capability. (It is also available on all networks in the UK.)
LG has made use of Flash functionality around the handset, which helps liven up the screen's background, and moving graphics and images appear behind the mirrored surface.
We aren't sure who LG is trying to target with its secret memo function within the U970's calendar - a teenager hiding texts from their parents or a James Bond wannabe perhaps? But we gave it a go and found we could write ourselves messages and then lock access to them with a four digit password, which might be useful. Maybe.
Verdict
If style was all that mattered, the LG U970 obeys the rule to the letter. Mirrored surfaces, brushed metal, and a sleek design mean the handset will appeal to those with a penchant for elegant equipment to complement their designer handbags or tailored suits. Looks aside, the U970 sports a solid range of connectivity and entertainment features, but lacks the technical punch available from the heavyweight application bundles on many PDA handsets.
LG U970 Shine mobile phone
Smooth and sophisticated certainly...but it still lacks a little substance
Price:
Dependent on tariff and supplier, but between free and £100 RRP