LG U970 Shine mobile phone
Why do new products sound like WWII submarines?
On its underside, the U970 features an auto-focus, 2x zoom and a 2-megapixel Schneider Kreuznach certified lens. It's capable of snapping in a range of sizes, ranging from 1600 x 1200 at the largest and down to 176 x 144, which made it easier to alter the size of an image when shooting different scenes - in our case Big Ben and close-ups of our lovely receptionist, Hannah.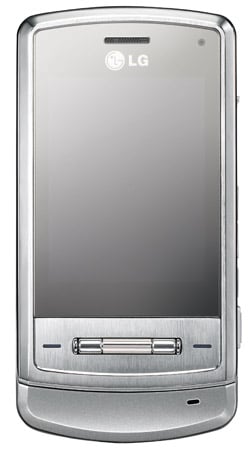 Image quality can be adjusted between super fine, fine, and standard settings, according to light levels. A built-in flash also means images can be brightened in dark conditions. Combining these features resulted in some decent quality images under a range of conditions. However, the lens is positioned on the underside of the phone, rather than only being available when the phone is slid open, meaning it was continually exposed to potential scratches and the like. That design flaw aside, one nice feature is the ability to get creative with images and apply different effects, such as sepia or black and white. Frames can also be applied before the image is taken to ensure the subject is always perfectly positioned.
PictBridge technology is also supported, so snaps can be printed without needing a PC. Any user hoping to use this feature will need their printer to have a type A USB port though. LG has wisely included a second VGA camera, of unspecified megapixel ability, on the phone's front. The lens performs all the same functions as the primary camera and is particularly useful for taking pictures of yourself with a group of friends.
Since the tri-band U970 is 3G equipped, the second lens is also used for video calls. Our test handset came from 3, so we were expecting big things from the 64Kbps data upload speed that the network operator claims is possible. Sadly, screen quality for video calls was juddery at best, with sound often falling out of synch with the vision, and the device sometimes struggled for service outside the capital.
Several video call options are available though, such as adjustments to the facial positioning of the U970 user, picture size of the caller, and substitute pictures - should you wish to cloak your image under a pseudonym.