LG U970 Shine mobile phone
Why do new products sound like WWII submarines?
Review Part of LG's Black Label series (sounds like a whisky), which also includes the KG800 Chocolate, the U970 features a brushed metal casing and a mirror effect display that makes it look more like an exquisite sculpture than a 3G, 2-megapixel camera and MP3-enabled phone.
The U970 has a slider style handset, which opens with sickening smoothness to reveal a compact Motorola Razr-style keypad. The sliding movement requires a greater than average thumb push to open, which means it won't slide open in your pocket. The metal body also gave us confidence that the handset was robust and could survive the odd bump and knock.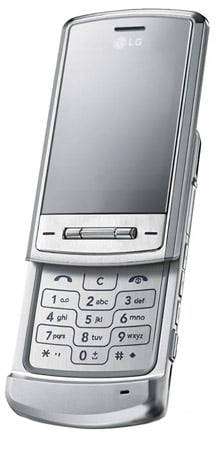 The 240 x 320 pixel QVGA display screen is the handset's best aesthetic feature. It provides a clear resolution of up to 262,000 colours when in use and transforms into a mirrored surface when in standby or slid down, making it perfect for the more image conscious mobile users.
In addition, its slim dimensions, 9.98 x 5.06 x 1.37cm and 119g weight, mean it is very jean, shirt, and suit pocket friendly. A scroll wheel underneath the screen is used to browse through and select menu options. This is fine when, for example, just browsing the internet, but having to push down on the scroll wheel to select options meant we often selected something different to the one wanted, which quickly became very annoying. Two soft keys for alternate menus also feature on either side of the scroll wheel.
It seems a slight fashion faux pas that LG has decided to cram all the U970's shortcut keys onto its left-hand side. There are two selection buttons that serve a myriad of purposes, including adjusting the in-call volume and browsing through the main menu, one for main menu access and another for the camera.
Lift a silver flap, also on the left-hand side, and you're able to plug in the power charger. Unfortunately, the port also doubles up as the headphone jack and USB port though, meaning we were unable to charge, listen to MP3s, and transfer data at the same time.