Sex.com: read it if you dare
A tale of evil from the early days of the internet
The book makes it clear that these consequences were to include losing any further work with NSI, to be "discredited" by NSI and then, going beyond what one can read without one's mouth sagging open, this high-level corporate lawyer proceeded to threaten physical violence - including the removal of her toes.
Make no mistake; by the time you've read this book, you will fear Cohen. You will fear meeting him (yes, he got out of jail) and you will fear falling for one of his scams; you may even fear the possibility that someone with his connections might even resort to violence.
His personality fills the pages and blots out the sun and the sky. He was able to bully people - not just ordinary, law-abiding office workers, but other hard-core pornography operators, criminals, gangsters, and even lawyers; you find yourself thinking: "How would I be able to escape, if his shadow crossed my life?"
And the book shows that Kremen is no saint - his crystal meth habit is not the least distasteful of his personal traits. One should not write down what Cohen himself says on any subject except as an illustration of how plausibly he can lie, but Kremen accepts that on one point, Cohen's testimony was accurate - and that was when Cohen poured scorn on his drugs habit. In Cohen's words, Kremen was "a hopeless junkie. He would come into depositions (court hearings) and curl up in a ball on the floor and sleep", Cohen sneers. "He would come into court in wrinkled up shirts, and he hadn't showered, he smelled."
There are no saints; there are plenty of villains. But the most terrifying of all of them, a dark, shadowy figure at the start, but a growing black cloud of impenetrable malice as the book progresses, is Network Solutions itself.
This book is a true horror story. And the cleverness of the way McCarthy presents it, is that you think you're going to read a racy description of the high life of a few wealthy California dotcom millionaires, playing at pornography - but what you end up soaking into your soul, is a deep understanding of the pioneering days of the internet.
And the story you actually read is one you would probably have dismissed - if you were told what it was about beforehand - as "boring, background business stuff". But this boring tale is actually the one that has you staying up late into the night, unable to say: "I'll finish it in the morning!"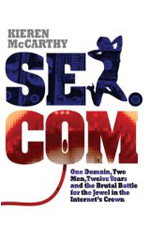 And it's this tale of corporate deception, implacable monopoly abuse and downright evil around the boardroom, which means that when you turn the last page and switch off the light, the darkness of the night is almost tangible and fearful. But the monster that lurks beyond the curtains isn't the drug-crazed obsessive geek, it's not the relentless, bullying conman. It's the corporate giant which waits for you beyond the borders of sleep, with nightmares where you find yourself too helpless to resist an implacable foe - a foe beyond your power, and apparently immune to the law.
It's a brilliant bit of writing. Read it if you dare.
Sex.com is published by Quercus Non-Fiction at £12.99
ISBN 10: 1 905204 66 3
ISBN 13: 978 1 905204 66 3
Copyright © Newswireless.net
Disclaimer Kieren McCarthy is a former Register reporter.