Channel carousel sees resellers, execs change places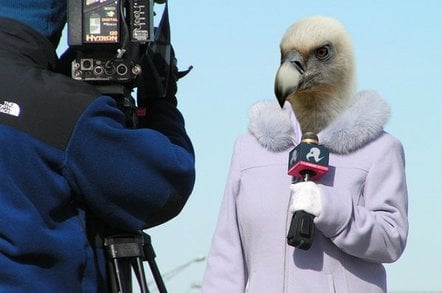 Microsoft laid its cards on the table - or its pictures at any rate - with the announcement of its table-top computer technology, dubbed Surface Computing.
The top secret technology uses IR cameras to recognise and identify objects when they are placed on the table top which is also a 30-inch back-projected screen for a built-in PC. Using the technology, a digital camera can appear to spill its photos onto the surface via Bluetooth and they can be manipulated and displayed.
Cancelled meeting adds 15 per cent to Avaya share price
We've heard of potentially dire consequences from cancelled meetings, but not so for Avaya. When the networking company decided to postpone its annual Wall Street analysts' meeting, the share price rose by 15 per cent and its market capitalisation shot up to just over $7bn. You could be forgiven for thinking the guys on Wall Street really didn't want to meet the Avaya people, but apparently it's all because the postponement was viewed as a possible indication of a buy-out at the company.
CBS gets social
Meanwhile, entertainment conglomerate CBS splashed out $280m to buy London-based social music network Last.fm, which provides personalised internet radio and music video to 15 million active users worldwide.
Channel sellout
Resellers were also in the buying and selling game this week. Big US computer dealer CDW, which employs more than 5,500 staff and had net income of $266.1m on sales of $6.8bn last year, announced it was selling itself to a private equity firm for $7.3bn.
At the same time, Irish computer reseller Calyx, agreed to a management buyout of the firm, led by chief executive Maurice Healy. The deal, which will give shareholders £1.01 per share, values Calyx at around £70.2m (€103.8m).
And the long-running Phoenix/ICM saga also reached a conclusion when Phoenix shareholders overwhelmingly backed its proposed acquisition of ICM Computer Group.
Bitter pill for iSoft
Things weren't so rosy for poor old iSoft. The company thought it had found a buyer in Australian health specialist IBA, but the deal was blocked by CSC in the best interests of the "successful delivery of the NHS National Programme for IT" (NPfIT). The company said it had carried out due diligence on the impact of IBA's takeover of iSoft on NPfIT and decided to vote against the plan.
GFI says Non to Fujitsu Services
Fujitsu Services has made an unsolicited offer to buy leading French reseller GFI Informatique. The €419m ($569m) offer represents a premium of 19.5 per cent over GFI's closing price last week.
But the FT reported that GFI felt Fujitsu's offer was too low and it was "not convinced the unsolicited offer matched its business plan". With GFI under its wing, Fujitsu Services would gain a much stronger coverage in France and Spain.
Google's Microsoft moment?
Google found itself under fire on several fronts last week. In a scenario all too familiar to arch-rival Microsoft, there were reports the Federal Trade Commission (FTC) had opened an investigation into the company over its planned $3.1bn acquisition of ad serving firm DoubleClick. News of the investigation came days after Google confirmed it would cooperate with an EU investigation into its retention of users' search data.
Google secures GreenBorder
At least the search engine company's acquisition of Silicon Valley startup GreenBorder was unlikely to excite the interest of the FTC. GreenBorder claims to work with both Internet Explorer and Firefox to form a protective barrier that prevents malicious code from installing programmes or accessing sensitive files on a PC. Web content is shunted into a secluded area - or "sandbox" - where files can be flushed away.
US users not bovvered by spam
Sticking with the security theme, a survey by the Pew Internet Project found that although American users were receiving more spam, they were less bothered by it.
As many as 37 per cent of email users said the number of unsolicited messages they received in their personal accounts had risen over the past two years, but the report indicated 71 per cent of online Americans used filters offered by their email provider or employer to block spam. As a result, the percentage of users who said spam was not a problem had risen from 16 per cent to 28 per cent over the past two years. Email users have also become better at distinguishing spam from normal email.
Don't stick your password you know where
Forgotten your password? Don't worry, it's probably on a Post-It note, if a survey by Ask Software is anything to go by. The survey found half of IT workers kept their passwords on Post-It notes.
It also revealed a third of them could access their company's network after changing jobs. One in five organisations rarely changed their administrative passwords and seven per cent said they never changed them. Eight per cent of IT professionals revealed the manufacturer's default admin password on critical systems had never been changed.
Yoggie sticks with security
After all the bad press USB sticks have been getting recently as a potential security risk, it was good to see security startup Yoggie Systems doing its bit to restore their reputation with the Yoggie Pico.
The Pico is a USB stick that holds 13 security applications - covering functions such as personal firewall, anti-spam, and anti-virus. Once installed on a PC, all network traffic is run through the Pico, where junk mail and hostile traffic is blocked. The operation results in little or no latency, according to Yoggie.
Qualcomm plays both sides of patent fence
Qualcomm found itself in the legal spotlight after a jury found the chip maker guilty of infringing three of Broadcomm's patents for cell phone technology and fined the company $19.6m. Broadcom is also seeking a permanent injunction to bar Qualcomm from further infringing its wireless technology patents.
Meanwhile, Nokia chief technology officer Tero Ojanpera was busy suggesting the success of 3G phone technology was being put at risk by its patent dispute with Qualcomm. He warned uncertainties about the licences would lead to people investing in mobile WiMAX rather than 3G technologies.
Hello, I must be going
The week was marked by a sizeable number of goings and comings. Verisign boss Stratton Sclavos unexpectedly quit the security and domain registrar firm with no explanation.
Meanwhile, Logica CMG stalwart and CEO Martin Read announced his retirement after 14 years at the firm in a bid to quell "unsettling speculation" following mixed results from the company.
Sage appointed Tony Hobson as chairman to replace Sir Julian Horn-Smith who unexpectedly quit the post in April citing irreconcilable differences.
And, HP unexpectedly snatched David Roberson, a 26 year veteran at Hitachi Data Systems who became CEO of the company in March 2006, to head its storage business.
One thing we wish we had time for
Here's a good excuse for Nissan drivers being late for work. The company has revealed that I-Keys for two of its flagship models can be wiped if they touch a mobile phone. The car manufacturer has asked customers to keep their phones at least an inch away from their car keys because if the key becomes scrambled "the car won't start and the I-Key cannot be reprogrammed". It brings new meaning to the phrase: "I was delayed because I was on a call."
Westminster green light costs a fortune
Little did Kermit know when he sang "it's not easy being green" (and how many of you knew Van Morrison and Frank Sinatra sang it too) how right he would prove to be. The BBC reports Westminster City Council is doing its bit to save the planet by installing energy-saving street lamps in every thoroughfare in the borough. However, the cost of replacing all its 15,000 street lights will be £15m to achieve a saving of only £20,000 a year. It's not easy Kermit and it's not cheap either. ®
Sponsored: Minds Mastering Machines - Call for papers now open