Creative Zen Stone MP3 player
More of a pebble than a stone really
Review If you never consider an MP3 unless it comes with a screen...then stop reading now. But if, on the other hand, you may be interested in a highly portable, cheaper version of the second gen iPod Shuffle, walk this way.
The Zen Stone from Creative really does just what it says on the tin – it plays audio tracks and stores digital media. But it also has one or two other little features that just might appeal, not least of which is 1GB of storage.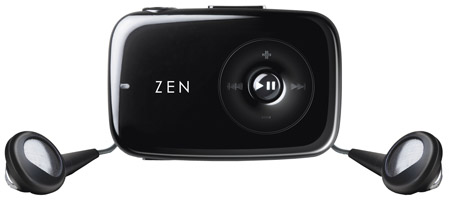 The Zen Stone is more of a pebble really, weighing in at a tiny 24g. The fact then that it's actually a little larger than the Shuffle really shouldn't bother you – it's still extremely wee, but not so small as to be unmanageable for anyone with above-pixie-sized digits. The device comes with the absolute bare essentials; headphones, mini USB (1.1/2.0) connection lead, start-up leaflet. There are some accessories coming on the market like armbands and keychain cases, and whether you want to bulk-it up is down to individual taste, but for us one of the key selling points of the Zen Stone is its portability…and price, coming in at under £30.
The design ain't too shabby either – the Zen's skin is pretty good at avoiding scratches, which should please the aesthetes among you, although the earphones are predictably patchy; fine for my girlfriend, terrible for me. It's best to use your own favourite brand of ear-wear anyway these days, and not bother with the rubbish frequently shipped with MP3 players. You also get a choice of black, white, blue, pink, red, or yellow devices. Along the left side of the player is a hole for threading through something to wear the player round your neck with (to give it its technical term), which should particularly appeal to gym-goers and other health freaks.
Headphone jack is on the top, USB connector on the bottom and on the front left is a small LED light, which uses a variety of sequences and colours to indicate various levels of battery life. This we found quite handy as the player will blink orange during charging – which takes about three hours – for a varied number of times, each denoting how much the device has been charged.