Asus EN8800 Nvidia GeForce 8800 Ultra-based graphics card
AMD who?
We have to ask ourselves why Nvidia launched the Ultra when it already ruled the roost with the 8800 GTX. The obvious answer is that it had to prepare for the launch of the Radeon HD X2900 XT. However, the performance of the X2900 XT fell a long way short of the 8800 GTX, so there was arguably no need for the Ultra after all.
Elder Scrolls Oblivion Results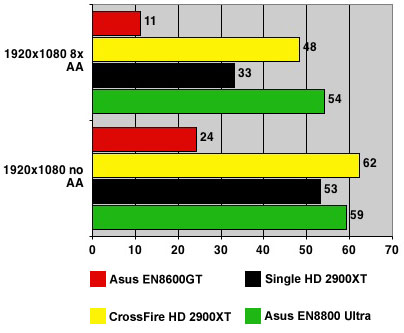 Frames per second (FPS) - longer bars are better
Indeed, there's some evidence that the Ultra was a bit rushed as driver version 158.22 isn't WHQL approved and Nvidia's nTune v5.05 overclocking utility doesn't recognise the Ultra.
No doubt Nvidia enjoyed the 'Fastest Ever' headlines that rained on AMD's parade but it must be earning a small fortune from the sale of every Ultra chip, and we suspect that was the real motivation.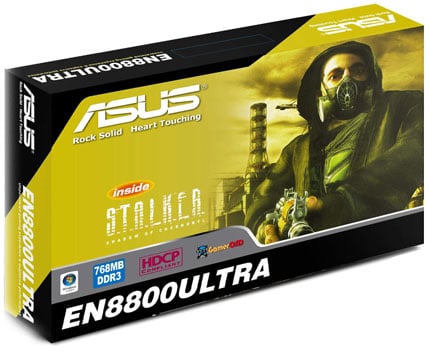 Asus' EN8800 Ultra: big box, small bundle
The Asus part of the package is minimal and consists of a copy of Stalker Shadow of Chernobyl, which is nice but less than £20 retail. You also get an s-to-component video splitter cable, one DVI-to-VGA adapter and two PCIe power adapters. Please, if you're spending this much cash on an Ultra, go get yourself a proper power supply.
Verdict
The 8800 Ultra takes over from the 8800 GTX as the fastest graphics card on the market but the price is truly terrifying. No doubt there will be a handful of gamers who are unable to resist squeezing an extra few frames per second onto their huge LCD TV at any price, and we applaud them wholeheartedly. No, that's quite insincere - in truth we're as jealous as heck...

Asus EN8800 Nvidia GeForce 8800 Ultra-based graphics card
Asus delivers Nvidia's GeForce 8800 Ultra and it's so darned fast it should be called Concorde...