Washing powder buffs, rejoice. Buy a Tide-brand T-shirt before 25 June and you could win a Tide-brand iPod Nano and $50 worth of iTunes content. Oh yes.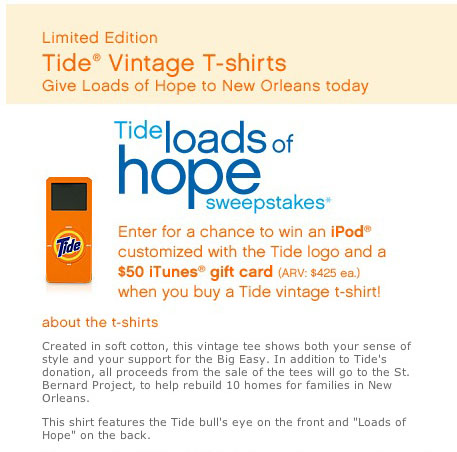 The Tide is high but I'm holding on...
Not a fan of detergent through the ages? Then you can at least cough up $10 in the knowledge that the proceeds will go to the St. Bernard Project, a charity founded to help rebuild homes for New Orleans families hit hard by Hurricane Katarina.
Hence the message on the back of the Ts: Loads of Hope. Though given the Tide connection, perhaps 'Loads of Soap' would be more appropriate...
Whatever, whoever buys a shirt will be entered into a draw to win said iPod. Tide's website only indicates that the player is "customized with the Tide logo", but it has a piccy of an orange first-generation iPod Nano, so who knows? The only orange iPod Apple currently offers is a second-gen Shuffle, but there's not much room for the Tide logo on one of those.
To enter, visit Tide's website.
Thanks to Register Hardware reader Matt for the tipoff
Sponsored: How to simplify data protection on Amazon Web Services