Pupils flog public school on eBay
'Not quite as good as it used to be'
Updated Those among you who've ever fancied roasting young toffs over an open fire should get yourselves down to eBay where the pupils of one seat of learning have decided to put their beloved alma mater on the market: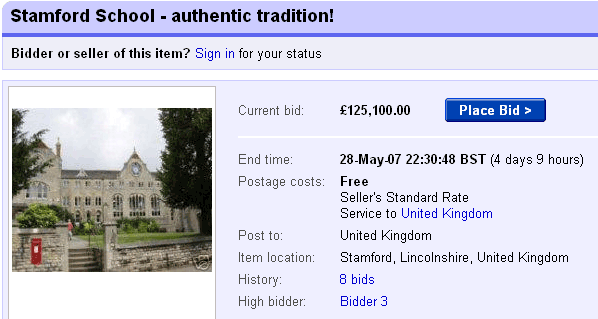 The blurb explains:
Have you ever wanted to own an authentic traditional school, with centuries of history?!

Well - now is your chance!! Stamford School is up for sale - and it is going cheap! True - its not quite as good as it used to be, but with a bit of firm leadership and a fresh injection of cash it could be as good as new. It has long prouded itself in trying (and failing) to match the likes of Oakham, Uppingham and Oundle.

Included - State of the art classrooms, boarding houses, swanky dining room, acres of fields, the pavilion, the chapel, mr gombault and many more!

CAN YOU AFFORD TO MISS THIS UNIQUE OPPORTUNITY OF OWNING WORTHLESS TAT!?!
Good show. The bidding currently stands at a modest £125,100 - an excellent deal if it does indeed include Mr Gombault and the rest of the staff. Right, where did we leave that fag-beating stick?
Update
Yup, in the time-honoured tradition, eBay pulled the listing about half-an-hour after this story went up. Poor show.
Bootnote
The usual thanks very much old chap to Anthony Thorpe for the upper-crust tip-off.